Barney Fugleman's problems started when Sharon had him hypnotized - or did they begin when he spied on Rabika Flatman in a hammock?
Either way, he is left with two major preoccupations in life: sex and literature. And not just any old literature (or, for that matter, any old sex): Barney is obsessed by the life and work of a man hailed by many as a towering genius of the nineteenth century - and by Barney as a 'prurient little Victorian ratbag'.
This curious compulsion may pain him, yet it propels him - out of Finchley, out of the life he shares with Sharon and her 'rampant marvellings' - to Cornwall.
There, as he offends serious ramblers with his slip-on snakeskin shoes, as he stomps the wild Atlantic cliffs on long, morbid walks born of the even longer and more morbid novels of his alter ego, he will tamper with the truth, tangle with the imperious Camilla - and tell a riotous tale.
Rights
Audio Rights
Available
The audio rights are handled by Alice Lutyens.
Film Rights
Available
Contact Nick Marston for more information
Kate Cooper manages the translation rights for Peeping Tom
Media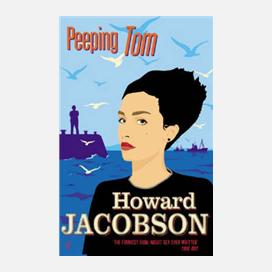 Reviews
The funniest book about sex ever written.
Time Out
Brilliantly funny and inventive…An astonishing display of irreverent wit, marvellous situational set-pieces and biting one-liners.
The Guardian
Brilliant and original.
Evening Standard
Howard Jacobson comes from behind the "tropic swamps of the imagination" to drag admirers into them again, kicking and screaming and laughing our heads off.
The Times