One day, out of the blue, Henry Nagel receives a solicitor's letter telling him he has inherited a sumptuous apartment in St John's Wood. Divine intervention? Or his late father's love-nest? Henry doesn't know, but he is glad to escape the North, where there is nothing and no one to keep him.
After nearly sixty years of angry disappointment, Henry's life is about to change. Not that the ghosts of Henry's past are prepared to disappear without a struggle - his old school-friend and rival Osmond Hovis Belkin, currently enjoying a spectacularly successful career in Hollywood, his tragic great aunt Marghanita for whom Henry once entertained a dangerous passion, and his father Izzi Nagel, upholsterer turned illusionist, fire eater and origamist, whose shade Henry interrogates relentlessly.
But the present clamours as loudly as the past. His dyspeptic neighbour Lachlan wants his sympathy, Lachlan's sloppy red setter, Angus, wants a walk, and Moira, the waitress with the crooked smile and custard hair who serves him cake and cappuccino, seems to want him.
Kicking and screaming every inch of the way, Henry realises he might finally be falling in love.
Will love be the making of Henry? Or will walking his neighbour's dog?
Rights
Audio Rights
Available
The audio rights are handled by Alice Lutyens.
Kate Cooper manages the translation rights for The Making of Henry
Film Rights
Available
Contact Nick Marston for more information
Media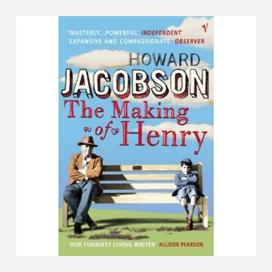 Reviews
A beautifully rounded portrait of a man gazing into the prism of the past in order to facilitate the future. Coloured by humour that is both penetrating and playful.
Gerald Jacobs
The Telegraph
Full Review
This beautifully written book is of a kind that English writers are sometimes being accused of not being able to write... joyously moving.
Henry Castiglione
The Telegraph
Full Review
Jacobson's writing is as luscious and funny as ever and its inner personalities just as competitive.
Will Cohu
The Telegraph
Full Review
It's masterly writing: the language under tight control, the finely-calibrated descent from accurate observation into a fantastical horrified gullibility... powerful, bang to rights, monstrously funny.
Michael Bywater
The Independent
Full Review
A terrific novel, full of pert observations and salty insights into the ageing process.
William Leith
Evening Standard
The writing is stuffed with brilliant hilarity and affectionate, suffer-thy-family Jewishness.
Sandra Howard
The Spectator
By page 16 I was laughing out loud - and I kept laughing until the end.
Andrew Crumey
Scotland on Sunday
What elevates The Making of Henry, what will crush the arguments of the devil's advocate, is the way it talks about love. That, and being funny.
Nicholas Lezard
The Guardian
Full Review
Not just entertaining but often gloriously, edifyingly funny... Comic self-awareness may well be the saving of us and Jacobson is one of its most convincing prophets.
Stephanie Merritt
The Observer
Full Review
Painfully funny.
Hugo Barnacle
The Sunday Times
Full Review
A charming comic novel, infused with feeling and intelligence.
The Sunday Times
Full Review