book
| Fiction
| 2014
UK & Comm →
Quercus
(Ed. Jane Wood)
You'd know if someone close to you was capable of lethal violence, right?

Dead wrong.

Accused of grassing up a fellow officer and driven brutally out of home and job, Grace Fisher is thankful to survive some dark times and find haven with the Major Investigation Team in Essex.

One female student is missing, last seen at a popular bar in Colchester. When a second student, also out drinking, is murdered and left grotesquely posed, the case becomes headline news.

Someone is leaking disturbing details to a tabloid crime reporter. Is it the killer? Or a detective close to the case?

With another victim, and under siege by the media, the murder enquiry hits a dead end. The review team brought in to shake things up is headed by Grace's old DCI. Who is going to listen to her now?
Rights
Katie McGowan manages the translation rights for Good Girls Don't Die
Film Rights
Available
Contact Sheila Crowley for more information
Media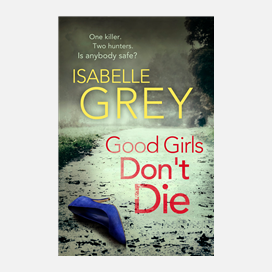 Reviews
Good Girls Don't Die is not just another topical thriller….Its characters are easy to relate to, (the) story hooks the reader early on, and there's plenty of excitement on offer even before the final twist eventually comes. Isabelle Grey has written a very readable crime thriller and I'll definitely be looking forward to future meetings with intrepid Detective Sergeant Grace Fisher.
Upcoming4.me
This fast-moving novel combines clever plot twists with a surprising delicacy of feeling.
The Sunday Times
An absorbing, well-written who-dunnit set in a corner of the world as it actually is in the year 2014.
Literary Review
Well-written and engaging, which despite the number of different lines of enquiry being followed, as well as some sub-plots both past and present, is easy to follow where a lesser writer could have tripped themselves up on the knots.
Cleopatra Loves Books
Good Girls Don't Die, which gets Grey's projected series off to a flying start, is assured, convincing and especially good on the contentious areas of contributory negligence and the delicate – and often dodgy – nature of the relationship between the police and the press. More, please.
Guardian