book
| Fiction
| 2012
US & Canada →
Thomas & Mercer
Hollywood superstar Max Conroy is A-List all the way—one of the few actors who can guarantee box office blockbusters on opening weekend. Max has it all: the devil-may-care charisma, the stunning movie star wife, and a sizable personal fortune that grows along with his legend.

When Max escapes from a rehab center in Arizona, disoriented and longing to return to his blue-collar roots, he becomes the target of a motley group of kidnappers planning to cash in by holding him for ransom. Max not only outsmarts them, but he evens the score. Little does he know that a far more dangerous and merciless enemy is coming for him. But this time, he has an ally in the smart and beautiful sheriff's deputy Tess McCrae.

For years, Max drifted through an easy superstar life, untethered and without purpose. But as he fights for his life, something turns inside him. He's ready to live again--on his own terms. He will destroy those who'd rather see him die like an icon than live like a man.
Rights
Claire Nozieres manages the translation rights for Icon
Media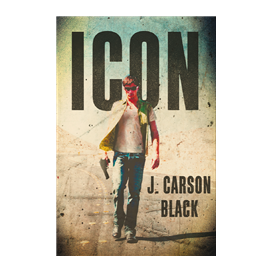 Reviews
Icon rocks from start to finish. Its thumping action propels a story that's suspenseful, ironic, and full of surprises. J. Carson Black has created a leading man to root for in Max Conroy – and the most chilling pair of villains I've come across in years.
Meg Gardiner
Icon is a smart thriller that had me hooked from the start. J. Carson Black has outdone herself. I loved it!
John Rector