book
| Fiction
| 2013
US →
Thomas & Mercer
(Ed. Courtney Miller)
"An utterly engrossing thriller. The Survivors Club grips us from the very start and simply doesn't let go. The novel seamlessly achieves that rarity in crime fiction: making our palms sweat while bringing the characters and their stories straight into our hearts. Bravo!" - Jeffery Deaver
Detective Tess McCrae investigates a grisly crime scene in the ghost town of Credo, Arizona. To an ordinary investigator, the evidence suggests a cartel drug hit. But Tess, with a nearly faultless photographic memory, is far from ordinary, and she sees what others might miss: this is no drug killing. Someone went to gruesome lengths to cover up this crime.

The killer's trail leads Tess from Tucson to California; from anti-government squatters in the Arizona mountains to the heights of wealthy society, including the rich and powerful DeKoven family, who've dominated Arizona commerce and politics since the 1800s. But as Tess follows the trail of gore and betrayal, perfect and indelible in her memory, she uncovers far more than one man's murder, and solves much more than one isolated crime.

The Survivors Club is a serpentine , stay-up-all-night thriller from New York Times bestselling author and master storyteller J. Carson Black.
Rights
Claire Nozieres manages the translation rights for The Survivors Club
Media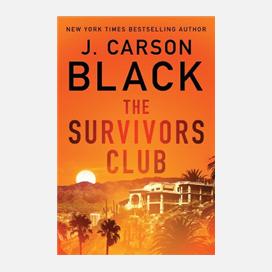 Reviews
Black serves up a breezy thriller with a killer premise: What if people who cheated death once weren't so lucky the second time around? By the time the plot snakes through twist after twist, you'll be asking yourself…do you feel lucky?
Brian Freeman
Bestselling Author of Spilled Blood