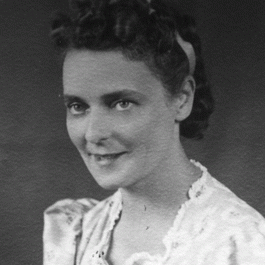 Jan


Struther

Novelist and essayist

1901–1953
Jan Struther was the pen name of Joyce Anstruther, later Joyce Maxtone Graham and finally Joyce Placzek, a writer remembered for her character Mrs. Miniver and a number of hymns, including
Lord of All Hopefulness
and
When a Knight Won His Spurs
.
During the 1930s Jan Struther became known as the author of stylish poems and essays for Punch, and Peter Fleming of The Times asked her to create a character whose doings would enliven the Court Page of the paper - 'an ordinary sort of woman who leads an ordinary sort of life - rather like yourself'. In fact, Jan Struther was very far from ordinary: she was tiny, very pretty, and bursting with unconventional zest and enthusiasm (two of her favourite words).
The collected articles, which had become enormously popular, were published as Mrs Miniver in 1939, shortly after the outbreak of war. Soon afterwards Jan Struther went to lecture in America, where Mrs Miniver became a much-loved Hollywood film starring Greer Garson. President Roosevelt told Jan that the book had hastened America's entry into the war, and Churchill was to declare that it had done more for the Allies than a flotilla of battleships.
Struther is the subject of a biography,
The Real Mrs. Miniver
, written by her granddaughter, Ysenda Maxtone Graham.