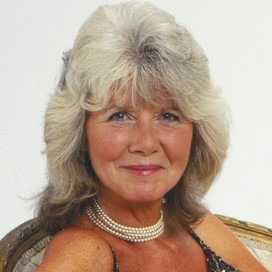 Born in London in 1937, Jilly became a journalist and wrote popular columns for the Mail on Sunday and The Sunday Times. This led to the publication of her first book, How to Stay Married, in 1969. It was quickly followed by a guide to working life, How to Survive from Nine to Five, in 1970. Her columns were successful enough to merit some of her journalism being collected into a single volume, Jolly Super, in 1971. Jilly Cooper is the international bestselling author of novels such as Riders, Polo and Wicked!, and a number of non-fiction books.
A regular on TV and radio, Jilly is also a well-known lover of animals and was one of the founding patrons for the Animals in War Memorial campaign. This led to the erection of a monument to animals in war which stands on Park Lane in London. Jilly was awarded an OBE for services to literature in 2004 and was married to Leo Cooper, a publisher of military history books, from 1961 until his death in 2013. She lives in Gloucestershire.

Her latest book, Mount! was published by Bantam Press on September 8th, 2016.
Delicious...her bawdy humour shines through at all times...almost like an old-fashioned comedy of manners - with dollops of sex... settle down and have a rollicking good time. Satisfaction guaranteed!
Jackie Collins
on The Man Who Made Husbands Jealous
Sexy, dazzling protagonists…the humour comes thick and fast

Daily Express on Apassionata
Delicious: light as a souffle and with divine flashes of wit. I could not put the damned thing down

Sunday Express on Apassionata
The funniest and sharpest writer there is.
Jenny Colgan
on Prudence
Compulsively readable and funny...the irrepressible Jilly remains irresistible

The Times on Polo
From the Cheltenham Gold Cup to the Grand National, horseracing trophies pepper the pages of Jilly Cooper's latest romp. Now, the bestselling author has been awarded a cup of her own for "services to the social side of racing".
Alison Flood
The Guardian on Jump!
Bitchy, saucy, insightful and, most of all, great fun
The Guardian
on Between the Covers