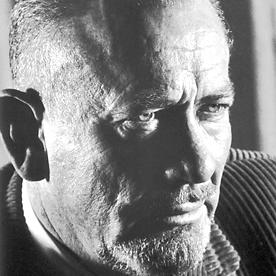 John


Steinbeck

Novelist and writer for film
1902 - 1968

John Steinbeck is one of the best-known and most widely read American writers of the 20th century. A winner of the Nobel Prize for Literature in 1962, he wrote the novella Of Mice and Men (1937) and his Pulitzer Prize-winning novel The Grapes of Wrath (1940), both of which examine the lives of the working class and the migrant worker during the Great Depression. His body of work reflects his wide range of interests, including marine biology, jazz, politics, philosophy, history, and myth.

The success of his books was not free of controversy, however. Steinbeck's liberal political views, portrayal of the ugly side of capitalism, and mythical reinterpretation of the historical events of the Dust Bowl migrations, especially in The Grapes of Wrath, led to backlash against the author soon after publication. Now, however, Steinbeck's works are frequently included on required reading lists in schools across the world.

Seventeen of his works, including Cannery Row (1945), The Pearl (1947) and East of Eden (1955), went on to become Hollywood films, and Steinbeck himself achieved success as a Hollywood writer, garnering an Academy Award nomination for Best Writing for Alfred Hitchcock's 'Lifeboat', in 1945.