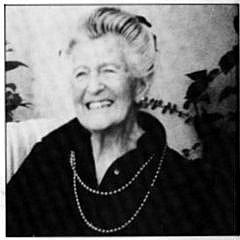 Joyce


Dennys

Novelist and playwright

1893–1991
Joyce Dennys was born 14 August 1893 in India. She came from a military family and her father was a professional soldier in the Indian Army. The Dennys family relocated to England in 1886. Joyce was a keen artist from a very young age – when she was a young woman she enrolled at Exeter Art School. Joyce married Tom Evans, a young doctor, in 1919 and they moved to Australia. While living in New South Wales, Joyce's work was constantly in print and her art was exhibited in many galleries.

In 1922, Joyce became a mother and moved back to England. Her drawing took second place to the domestic and social duties of a doctor's wife and mother and she became increasingly frustrated, trying to work whenever she could.
The struggle for women artists to have space to work is a theme that pervades much of her writing. She voiced her frustrations through Henrietta, a heroine she created for Sketch who wrote a series of letters showing a woman's experience of the war. This character was to become very important to her, and she claimed: 'When I stopped doing the piece after the war, I felt quite lost. Henrietta was part of me. I never quite knew where I ended and she began.' These letters were later compiled to form Henrietta's War.