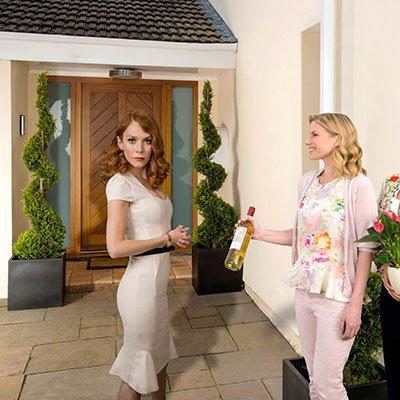 Julie


Rutterford

Writer for film and television
Julie Rutterford is a BAFTA winning writer for television and film. She has written on numerous critically acclaimed television drama series including The Lakes, Hustle, Life on Mars and its sequel Ashes to Ashes.
In 2009, her first feature film, A Boy Called Dad, was released. The film was produced by Made Up North Productions and directed by Brian Percival.
Julie's original drama, The Psychopath Next Door, aired on Sky Living as part of their Drama Matter's Season, a series of one-off dramas by some of Britain's most critically-acclaimed female screenwriters. Julie also wrote on Dickensian for Red Planet Pictures.

Julie currently has several original commissions, she is working on Tor for Chrysalis/SKY, Uncanny for Little Island Productions and also Country for Two Brothers/ITV.
Television
Writer & Creator
Drama about two girls who are accused of the murder of their flatmate
Red Planet Pictures
In development
Drama about the creation of package holidays in the 1960s
Mainstreet Pictures
In development
Female crime based thriller
Chrysalis Vision
In development
Adaptation of the novel by Jake Wallis Simons about disparate people trapped in a traffic jam
ITV Studios
In development
Psychological crime thriller
Mainstreet Pictures
In development
Producer
Myar Craig-Brown
Starring
Anna Friel
Eva Birthistle
Kathryn Drysdale
Claire Keelan
A female psychopath moves into an ordinary suburban street of families
ITV Studios
for
Sky Living
Original drama about a family whose daughter is killed by an individual protected by diplomatic immunity
Tiger Aspect Productions
In development
Writer
Chrysalis Vision
for
Sky One
In development
Little Island Productions
In development
Two Brothers Pictures
for
ITV
In development
Starring
Stephen Rea
Pauline Collins
Caroline Quentin
Peter Firth
Ned Dennehy
Drama series bringing together the characters of Dickens' novels in 19th century London
Red Planet Pictures
for
BBC1
Starring
Leszek Lichota
Bartlomiej Topa
Aleksandra Poplawska
Magdalena Poplawska
Andrzej Zielinski
Crime drama about a border guard trying to track down the bomber who killed his friends

Starring
Matthew Macfadyen
Jerome Flynn
Adam Rothenberg
Michael McElhatton
MyAnna Buring
David Wilmot
Detective series set in 19th century London
Starring
Mark Addy
Jane Horrocks
Jason Watkins
Nick Blood
Lorraine Cheshire
Comedy series set in a supermarket
Director
Philippa Lowthorpe
Starring
Eva Birthistle
Ian Hart
Sarah Lancashire
Natalie Press
Juliet Aubrey
Drama series based on murders in Ipswich in 2006 of five women, co-written by Philippa Lowthorpe
Creator
Matthew Graham, Asley Pharoah
Director
Bille Eltringham
Starring
Dean Andrews
Philip Glenister
Keeley Hawes
Marshall Lancaster
Drama about a female police office shot in 2008, who wakes up in 1981
Kudos Film and Television
for
BBC1
Starring
Geraldine James
Genevieve O'Reilly
Robert Pugh
Joe Duttine
Victoria Hamilton
Drama about a woman who wakes up from an eighteen year coma
Granada Television
for
ITV1
Creator
Matthew Graham, Ashley Pharoah & Tony Jordan
Starring
Philip Glenister
John Simm
Liz White
Dean Andrews
Marshall Lancaster
Second series of the police drama set in the 1970s
Kudos Film and Television
for
BBC1
Starring
Robert Glenister
Adrian Lester
Jamie Murray
Robert Vaughn
Rob Jarvis
Drama about a group of London con artists
Kudos Film and Television
for
BBC1
Starring
Adrian Bower
Navin Chowdhry
Andrew Lincoln
Raquel Cassidy
Nina Sosanya
Comedy drama about a group of teachers who refuse to grow up
Tiger Aspect
for
Channel 4
Director
Martin Hutchings
Starring
Peter Davidson
Neil Dudgeon
Diana Rigg
Richard Baglow
James Baglow
Drama series about a female sleuth in the 1930s
Director
Sallie Aprahamian
Starring
Elizabeth Bennet
Robert Pugh
John Simm
Kaye Wragg
Nicholas Day
Drama series about a man who leaves Liverpool to move to the Lake Distric
Starring
Letitia Dean
Amy Marston
Helen Sheals
Samantha Seager
Samantha Hardcastle
Drama set in a 1960s telephone switchboard
Feelgood Fiction
for
BBC1
Film
Writer
Producer
Michael Knowles & Stacey Murray
Starring
Louise Delamere
Ian Hart
Charlene McKenna
Joel Robinson
Film about a boy who becomes a father while still a young teenager
Producer
Janey de Nordwall
Starring
Laren Creek
Sue Jaynes
Sarah Patel
John Slater
Short film with a teenage girl relating stories from her life
Moving Image Development Agency