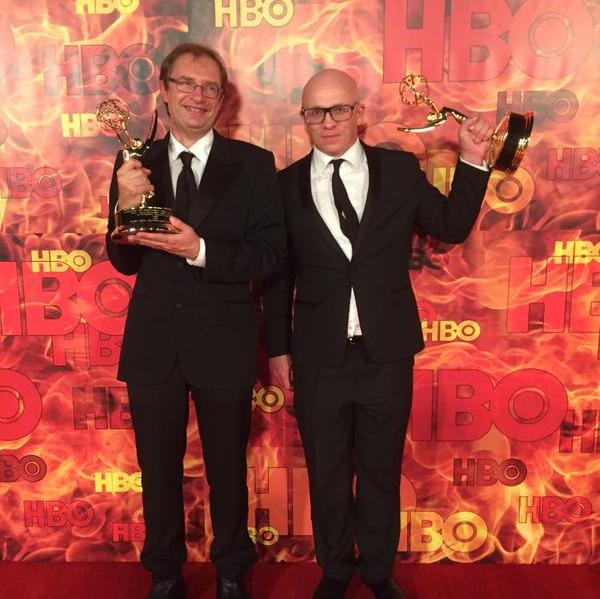 Kevin


Cecil &
Andy
Riley

Comedy writers and writers for film and television
Kevin Cecil and Andy Riley are an Emmy award-winning writing team, who most recently created Channel 4's Year of the Rabbit. They have written on many top comedy series including The Armando Iannucci Shows, Tracey Ullman's Show, Smack The Pony and Spitting Image. They were the lead writers on the BAFTA-winning comedy Black Books, and created and wrote the BBC2 comedies Hyperdrive and The Great Outdoors.
They were supervising producers and writers on the first 4 series of the HBO comedy Veep starring Julia Louis-Dreyfus, and won the Emmy for Best Comedy Series.
Their adaptations of David Walliams' best selling books Gangsta Granny, The Boy in the Dress and Billionaire Boy have become a very loved and hugely successful part of the annual Christmas TV schedule.
In January 2011 Andy and Kevin's Gnomeo and Juliet opened internationally to critical acclaim and box office success, grossing over $200 million worldwide. Kevin and Andy are working on film and television projects in the UK and US.
Television
Writer
Pilot for IFC with Objective Productions
Starring
Matt Berry
Period scripted comedy for C4, starring Matt Berry.
Objective Productions
for
Channel 4
Ratburger
Nominated for a 2018 International Emmy for Best TV Movie
1 x 60"
Starring
David Walliams
Sheridan Smith
Written by Kevin Cecil, adapted from the book by David Walliams.
Starring
Jennifer Saunders
Tom Courtenay
An adaptation of David Walliams' much loved book. Aired Christmas 2017.
King Bert Productions
for
BBC1
Starring
Meera Syal
James Buckley
Jennifer Saunders
Kate Moss
Adaptation of David Walliams' book.
Producer
Armando Iannucci
Starring
Julia Louis-Dreyfus
Fourth series of the comedy about the Vice-President's office
Producer
Armando Iannucci
Starring
Julia Louis-Dreyfus
Anna Chlumsky
Tony Hale
Matt Walsh
Third series of the comedy about the Vice-President's office.
Starring
Julia McKenzie
Joanna Lumley
Rob Brydon
Miranda Hart
Adaptation of the children's book by David Walliams about a boy who discovers his granny was a jewel thief
Starring
James Fleet
David Flynn
Rebecca Humphries
Comedy starring Blake Harrison about a hapless graduate who ends up living back at home
Objective Productions
for
Comedy Central
Director
Angie De Chastelai Smith
Starring
Jon Culshaw
Debra Stephenson
Sketch writers
Starring
Alexander Armstrong
Ben Miller
Sketch writers
Hat Trick Productions
for
BBC
Starring
David Walliams
Rebecca Front
Warwick Davis
Adaptation of the David Walliams book broadcast over Christmas 2015.
Starring
Matt Lucas
David Walliams
Lead contributors on third season
Producer
Julian Meers & Nira Park
Director
Martin Dennis, Graham Linehan & Nick Wood
Starring
Bill Bailey
Tamsin Greig
Dylan Moran
Episode writers on the award winning sitcom
Starring
Rob Brydon
Steve Coogan
Jeff Goldblum
Ardal O'Hanlon
Sequel to Robbie the Reindeer
Starring
Steve Coogan
Jane Horrocks
Ardal O'Hanlon
Starring
Steve Coogan
Andy Hamilton
Alison Snowden
Starring
Armando Iannucci
Creator & Writer
New comedy series about a failing relationship
Comedy set in a coffee shop
BBC Productions
In development
Starring
Dan Antopolski
Kevin Eldon
Nick Frost
Second series of the sci-fi sitcom
Producer
Alex Walsh-Taylor
Starring
Dan Antopolski
Kevin Eldon
Stephen Evans
Nick Frost
Sci-fi sitcom
Starring
Emo Philips
Nicole Sullivan
Sinbad
Keirsten Warren
Animated sitcom following the adventures of two cats Eddie and Buckley and their owner Louise
Walt Disney Pictures
for
ABC
Script Editor
Creator
The Dawson Brothers
Writer
The Dawson Brothers
Starring
David Walliams
Joanna Lumley
Script editor on David Walliams sketch show.
Writer
David Walliams & The Dawson Brothers
Starring
Catherine Tate
David Walliams
Kevin is editing the second series of the comedy written by David Walliams and the Dawson Brothers
ITV Studios
In development
Starring
Jessie Cave
Tom Davis
Jamie Demetriou
Tom Golding
Sketch show for the Feed My Funny strand
Director
Iain B. MacDonald
Writer
James Cary & Richard Hurst
Starring
Oliver Chris
Gary Carr
Jamie Quinn
Kevin is editing the eight part comedy series about a bomb disposal team in Afghanistan
Producer
Will Saunders & Jo Sargent
Starring
Jenny Bede
Chris Kendall
Cariad Lloyd
Peter Serafinowicz
Kevin Cecil edited the new sketch show from the Dawson Brothers
BBC Productions
for
BBC3 Online
Writer
Ingrid Oliver & Lorna Watson
Starring
Ingrid Oliver
Lorna Watson
Kevin Cecil edited the sketch show
Producer
Paul Schlesinger
Starring
Ruth Jones
Mark Heap
Steve Edge
Comedy
BBC Productions
for
BBC4,
BBC2
Film
Writer
Comedy Movie written by Kevin Cecil
Producer
Steve Hamilton-Shaw
Sequel to Gnomeo & Juliet with Sherlock Gnomes called in to investigate gnome disappearances
Starring
Brendan Gleeson
Hugh Grant
Ashley Jensen
Jeremy Piven
Animation following a band of pirates as their captain attempts to win Pirate of the Year
Gnomeo & Juliet
Nominated: Writing in a Feature Production, The Annie Awards
Starring
Emily Blunt
Michael Caine
James McAvoy
Maggie Smith
Animated romantic comedy set in a community of gnomes
Miramax
Rocket Pictures/Starz Animation/Walt Disney Pictures
Radio
Writer
Starring
David Mitchell
Robert Webb
Comedy sketch show starring David Mitchell and Robert Webb
Starring
Peter Baynham
Armando Iannucci
Simon Pegg
Sue Perkins
Sketch writers
Production Company Pozzitive
Broadcaster
Radio 4