tv


Producer

Ash Atalla

Director

Colin Teague

Starring
Isabella Calthorpe
Christian Cooke
Charles Dance
Claire Skinner

Production Company Roughcut
Robin French and Kieron Quirke's UK series debut, Trinity, was a cross genre, comedy-thriller set at a fictional Oxbridge college and boasting a star-studded cast including Charles Dance and Claire Skinner and hot newcomers Christian Cooke, Reggie Yates and Isabella Calthorpe.

Trinity was a cult hit on ITV2 with a huge following across Twitter, Facebook and other social media and with viewing figures outstripping the digital slot average, including an opening well over a million viewers.
Media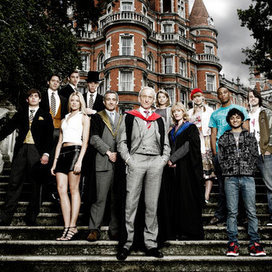 Reviews
'The characters are well drawn, the plot is ingenious, the sex is raunchy and the look is opulent'
Andrew Billen
The Times
immense fun
Liz Jensen
Saturday Review
Trinity is well produced, with some great performances and a mystery that leaves us wanting to know more. I'm already hooked.
Donna Wiffen
Broadcast
absolutely addictive...I'm totally gripped and hooked
Mark Ravenhill
Saturday Review
Thank God, then, for Trinity. Ash Atalla puts Footballers' Wives, Inspector Morse and Buffy into a pot, stirs, and out comes this - and what a romp it is. His first non-comedy, and yet I laughed out loud. The casting of Charles Dance is genius; I love the fact the royal tart really is a royal. It is ridiculous, but knowingly so, and I am sure it will be a great hit. The crepy thriller undertones left me wanting more, and although I know it's not meant for me, I will be tuning in.
Kelly Webb-Lamb
Broadcast
never a dull moment...Trinity is shaping up as an unholy treat
Keith Watson
Metro
We're at a collegiate university, it's very, very silly, Porterhouse Blues meets There's Something About Mary, that kind of thing. It's early days I know, but I think it looks quite promising
Sam Wollaston
The Guardian