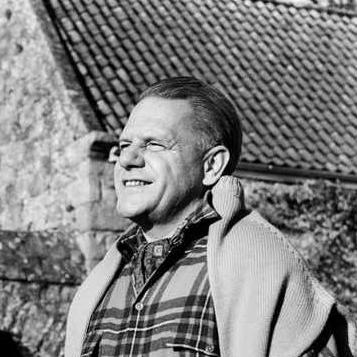 Lawrence


Durrell

Novelist, playwright and poet

1912–1990
The poet and novelist Lawrence Durrell was born in India in 1912.
In 1923 he sailed with his family to England, where his first book of poetry, Quant Fragments, was published in 1931. He then moved to Corfu with his first wife, Nancy Myers, in 1935. Their bohemian lifestyle on Corfu was fictionalised in the book Prospero's Cell, and inspired much writing about life on Corfu from the perspective of a foreign resident, including Bitter Lemons and Sicilian Carousel. In 1941, ahead of the German invasion of Greece, they left Corfu and fled to Cairo in Egypt. Durrell was married four times and spent several years in the service of the Foreign Office around the world.
His work included drama, poetry and travel literature, but he is probably best known for The Alexandria Quartet, published between 1957 and 1960, which has become one of the most influential works of the century. Inspired by Einstein's theory of relativity and concepts of relative truth, the quartet consists of Justine, Balthazar, Mountolive and Clea, all of which deal with events in pre-Second World War Alexandria and tell the story of the failed love affair between L.G Darley and Justine. His other well-known works include The Black Book, a provocative tale of debauched intellectuals, and the five books of The Avignon Quintet, in which the distinction between reality and fiction becomes increasingly unclear.
Durrell died of a stroke at his house in Sommières, France, in November 1990.
Selected Fiction
The Alexandria Quartet

Justine (1957)

Balthazar (1958)

Mountolive (1958)

Clea (1960)
The Avignon Quintet
Monsieur: or, The Prince of Darkness (1974)

Livia: or, Buried Alive (1978)

Constance: or, Solitary Practices (1982)

Sebastian: or, Ruling Passions (1983)

Quinx: or, The Ripper's Tale (1985)
Selected Non-fiction
Prospero's Cell (1945)

Reflections on a Marine Venus (1953)

Bitter Lemons of Cyprus (1957)

Blue Thirst (1975)

Sicilian Carousel (1977)

The Greek Islands (1978)

Caesar's Vast Ghost (1990)