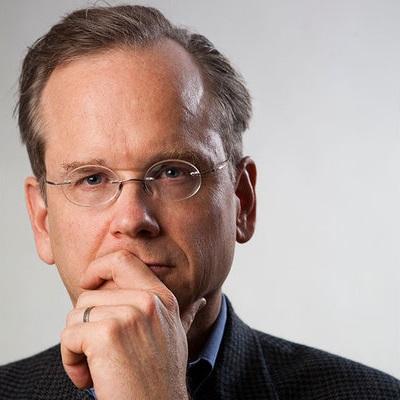 Lawrence Lessig is the Director of the Edmond J. Safra Foundation Center for Ethics at Harvard University, and a Professor of Law at Harvard Law School.
Lessig has worked as a Professor of Law at Stanford Law School (where he was founder of Stanford's Center for Internet and Society), Harvard Law School (1997-2000), and the University of Chicago Law School. Lessig clerked for Judge Richard Posner on the 7th Circuit Court of Appeals and Justice Antonin Scalia on the United States Supreme Court.
For much of his academic career, Lessig has focused on law and technology. He has served as lead counsel in a number of important cases marking the boundaries of copyright law in a digital age, including Eldred v. Ashcroft, a challenge to the 1998 Sonny Bono Copyright Term Extension Act, and Golan v. Holder.
His current academic work addresses the question of "institutional corruption" — influences within an economy of influence that weaken the effectiveness of an institution or public trust. His current work at the E.J. Safra Lab oversees a five-year research project addressing institutional corruption in a number of institutional contexts.
Lessig has won numerous awards, including the Free Software Foundation's Freedom Award, and was named one of Scientific American's Top 50 Visionaries. He is a member of the American Academy of Arts and Sciences, and the American Philosophical Society.
Lessig serves on the boards of Creative Commons, MAPLight, Brave New Film Foundation, Change Congress, The American Academy, Berlin, Freedom House and iCommons.org. He is on the advisory board of the Sunlight Foundation. Lessig was also a columnist for Wired, Red Herring, and the Industry Standard.
Lessig earned a BA in economics and a BS in management from the University of Pennsylvania, an MA in philosophy from Cambridge, and a JD from Yale. He has received honorary degrees from The University of Amsterdam, Athabasca University, and The Georgian-American University.
In August 2015, Lessig announced that he would run for US president if he raises enough citizen funding by Labor Day, as a means of bringing about a referendum on the transparency of funding in US politics. An updated version of Lessig's 2012 book
Republic, Lost
will be released in 2015 by Twelve in advance of the 2016 presidential race. You can read about Lessig's campaign and donate to his run for office
here
.
Lessig is married to Bettina Neuefeind, and is the father of three children.