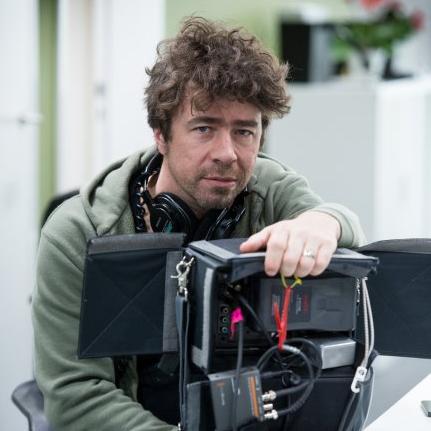 Maarten currently works as showrunner and director on the Flemish adaption of the hugely successful Dutch comedy series 'De Luizenmoeder'.
He recently finished 'The Flemish Bandits' a historical drama he co-directed with Robin Pront (D'Ardennes). The series is highly anticipated in Flanders and will be presented at international markets in the near future. Maarten also recently co-created and directed '13 Commandments', a dark thriller series, which has gained him recognition for contributing to the wave of 'Flem Noir'. The series was selected for the 'Séries Mania' festival in 2017 and was brought into the US and UK by Walter Presents even before it was aired in Belgium (scheduled for September 2018).
Maarten Moerkerke studied film at the RITS filmschool in Brussels. He made his directorial debut with Wittekerke, the hugely popular Flemish remake of the Australian tv-show 'E-street', of which he directed 48 episodes.
In 2000 he co-founded a production company focused on contemporary comedy inspired by the booming alternative British comedy shows at that time, through which he directed various comedy sketch shows, satirical news items and stand-up comedy. In 2012 Maarten turned his focus back to drama and began working with two-time Oscar-nominated producer Dirk Impens (Menuet), a collaboration that would last 5 years. In that period, he directed 6 highly anticipated tv-series and a feature film, which he de facto showran as Impens gave him full responsibility and freedom to shape the shooting script - including writing, casting and visualising - into the final result. This consolidated his reputation as a hardworking director with a strong take on story and capable of achieving creative vision within the realities of production.

Television
Writer & Director
Dark thriller series. A serial killer invokes the ten commandments with his crime, in order to shake society's conscience.

Directed 13 episode; wrote 4 episodes.
Director
Belgian TV series about the coronavirus lockdown.
Showrunner; directed 1 episode.
Flemish adaption of dutch 'De Luizenmoeder', comedy series about the life a primary school.


Set in Flanders during the Austrian War (1749), this series depicts a strongly divided world between the outlaws in the woods and the citizens in the city. Also known as Thieves of the Wood.


Crime serial about the federal police seeking justice.
Political thriller. A retired journalist starts investigating the carbon dioxide poisoning in her son's school.

6 standalone stories inspired by famous true crimes in Belgium.

Political thriller. A young journalist starts working for the local Antwerp newspaper and has to deal with the disappearance of a young girl.

Film
Director & Co-writer
Romantic comedy. Two publishing brothers are heading towards bankruptcy, but everything changes when they receive a pair of manuscripts.