A Midsummer Night's Dream
theatre
Role Bottom National Theatre
Greg Doran's masterly production for the RSC was heralded as one of the companies best in recent memory. Light-hearted and laugh-heavy, Doran's production was visually spectacular with a particularly hearty and hilarious staging of Pryammus and Thisbe.
Malcolm's Brummie Bottom was deemed a particular highlight, still a simple creature, but, just occasionally, more astute than the aristocrats floating through the woods.
Media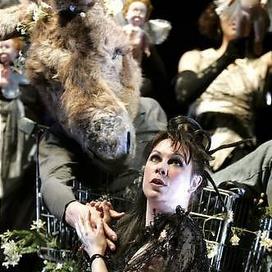 Reviews
Malcolm Storry as Pyramus, looking and sounding for all the world like Noddy Holder, made me metaphorically beat the canvas in submission, although I was incapable of anything but struggling for breath.
Michael Coveney
whatsonstage.com