theatre
Role Caliban Almeida Theatre
More than 23,000 people saw Jonathan Kent's sell-out production of The Tempest for the Almeida Theatre in 2000. Malcolm played Caliban alongside Ian McDiarmid's Prospero and Aidan Gillen's remarkable amphibious Ariel.
Media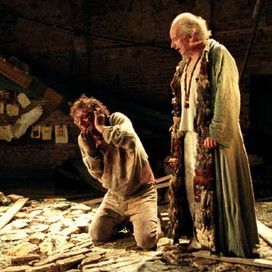 Reviews
Malcolm Storry's Caliban is a randy, unreformed brute who at one point even rubs himself sexually against a surprised Stephano.
Michael Billington
The Guardian
In a central illuminating stroke, the rages and melting of Malcolm Storry's bloated beast of a Caliban seem not so distant from Prospero's unpredictable turns.
Susannah Clapp
The Observer