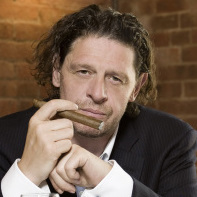 Marco Pierre White is a leading chef and restaurateur and considered one of the most creative and talented people in food of his generation.
Variously described as the first celebrity chef, the
enfant terrible
of the UK restaurant scene and the godfather of modern cooking, he is universally recognised as the first chef to put English cooking on a par with classic haute cuisine and is the youngest chef ever to receive three Michelin stars.
His latest book is
White Heat 25: 25th Anniversary Edition
(Octopus 2015). He is working on several television projects.