Maggie has always been the white sheep of the Walsh family. Unlike her comically dysfunctional sisters, Rachel and Claire, she married a decent man who adored her and found herself a solid career. Where Rachel was reckless and Claire dramatic, Maggie settled early for safety. Or so she believed until she discovers that her husband is having an affair and her boss is going to fire her. Suddenly, her perfectly organized life has become a perfect mess.

Devastated, she decides the only thing to do is to run for the shelter of her best friend, Emily, who lives in Los Angeles. There, with the help of sunshine and long days at the beach, she will lick her wounds and decide where life will take her next. But from the moment she lands in the City of Angels, things are not quite what she expected. Overnight, she's mixing with movie stars, even pitching film scripts to studios. Most unexpectedly of all, she finds that just because her marriage is over, it doesn't mean her life is.
In the end, neither the City of Angels nor Maggie Walsh will ever be the same again.
Rights
Audio Rights
Available
The audio rights are handled by Alice Lutyens.
Film Rights
Available
Contact Nick Marston for more information
Liz Dennis manages the translation rights for Angels
Translation Rights Sold
Chinese Simple
Mainland China
New Star Publishing House
Dutch
World
House of Books
Finnish
World
House of Books
French
World
Editions Belfond
German
World
Wilhelm Heyne Verlag
Hungarian
World
Ulpius-Haz Konyvkiado
Icelandic
World
Ritsmioja Austurlands
Italian
World
Sperling E Kupfer
Portuguese
Brazil
Bertrand Editora
Russian
World
Eksmo Publishers
Slovak
World
Slovart spol
Spanish
World
Plaza y Janes
Media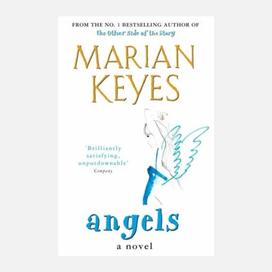 Reviews
Keyes imbues her charming stories about flawed yet feisty women with incredible warmth and wit.
Booklist
Full Review
She is brilliant at dialogue, sharply observant of manners, increasingly ambitious about narrative structure, unsentimental about the Darwinian dynamics of the family or the competition and hostility hidden in even the best friendship.
Elaine Showalter
The Guardian
Full Review