book
| Fiction
| May 2021
France →
Flammarion
(Ed. Céline Vial)
Soledad, 18 years old, her A levels in her pocket, was planning a brilliant summer with her friends. Instead, her depressed father – following her parents' divorce – is sending her away on a fast train to her grandmother's house in the Pyrenees, at the edge of a forest. Soledad loves her grandmother but the house is empty and sad after her grandfather's death.

While she prepares herself for three weeks of boredom, strange events are happening around the house. Flashlights in the nearby forest at night, animals discovered with their throats cut, threats written on doors … a menace is creeping over the village while the police have other fish to fry.

Soledad is terrified and keeps watch at night but Granny Elvira sleeps like log and insists on keeping her doors unlocked at night because Albert – the oak tree – will protect them! Soledad is at her wits' end. Is her grandmother losing her mind?

A Summer with Albert is a love letter to nature, a true and moving portrait of the bond between a grandmother and her granddaughter with an unexpected touch of fantasy and wonder.

Rights
Roxane Edouard manages the translation rights for A Summer with Albert
Film Rights
Available
Contact Roxane Edouard for more information
Media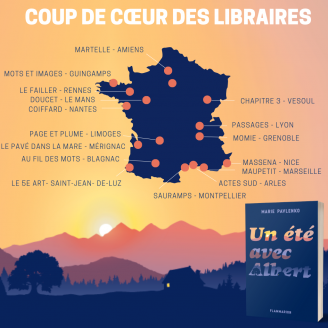 Reviews
An amazing novel about nature's regenerative and protective power.
Isabelle Vial
Le Pelerin
The novel oscillates between light and dark... The book is all at once an excellent portrait of a teenage girl, an homage to nature and a life of simplicity, and a dive into suspense and fantasy worthy of Goya's paintings... With its liveliness and simplicity, Marie Pavlenko's writing style is touching and perfect for older teens. It also moves adults with its creativity, its cheek, its colours, and sense of suspense.
Jean-Claude Vantroyen
Le Soir
What a talent Marie Pavlenko is!
Librairie Passages Lyon
Full Review
Marie's concern for the environment is skilfully woven into the text, without losing a good dose of humour.
Librairie le 5e art
Amazing, a true delight, a must-read for 12+.

Zoe David Rigot, Atout Livre
Full Review
The book for the holidays! A detective-comedy-fantasy gem.
Librairie Longtemps
A great new Pavlenko!
Librairie le Pavé du Canal
Full Review
A subtle mix of fantasy, mystery and suspense; a true joy.
Delphine Le Pelletier, Librairie La Galerne
An ecological and fantastical fable.
Rachel, Librairie Martelle
Full Review
Emotional, yet full of suspense, Marie Pavlenko hooks readers from beginning to end with her extraordinary skill: a novel like no other!
Frederique
Le goût des mots
A lovely novel that feels like sunshine, mixing sweetness and plot twists!
Armelle, Librairie le Jardin des Lettres
A wonderful gem of a book to devour in one sitting!
Librairie spécialisée Momie BD Lyon
Don't wait for the summer holidays, it's a must-read!
Helene, Librairie Durance
Full Review
A rich, exciting writing style, this story transports you to the Pyrenees for an unforgettable summer.
Librairie Matière grise
Filled with love, tenderness and sweetness.
Sandrine Dantard, Librairie Fnac
Full Review
Mystery, family and sunshine in abundance!
Laurine, Fnac Nogent-le-Rotrou
Full Review
Emotionally rich reading experience.
Librairie Chapitre 3 Vesoul
Full Review
Marie Pavlenko enchants us once again!
Iris, Centre de ressources en littérature jeunesse
Full Review
A funny, touching and surprising story.
Librai'bulles
Full Review
Bright and surprising novel.
Camille Duchesne, Librairie l'Oiseau Lire Vise
Full Review
A novel which soothes and astounds in equal measure!
Mathilde Allavene
Je bouquine
An emotionally rich story, yet full of mystery and suspense. An ideal novel for summer.
La Presse de Vesoul
A continually outstanding writer.
Christelle Buro
Le Nouvelliste suisse