Film Rights Under Option

book
| Fiction
| Mar 2017
World French →
Flammarion
Winner of the Prix Lynx (Luchs Preis) du mois de Novembre 2021 (décernée par Die Zeit et Radio Bremen)
Winner of the Prix Paille-en-queue 2018 (3ème – 2de).
Winner of the Prix Tatoulu 2018 – Tatou noir.
Winner of the Prix A-fictionados 2018.
Winner of Prix Livres sur Seine 2018 (3ème – 1ère).
Winner of the Prix Ado 2018 - Médiathèque de la Porte des Vosges.
Winner of the Prix Talents jeunesse Cultura 2017, catégorie Roman Ados (+12 ans).
Winner of the Prix 2017 des lecteurs du Var.
Winner of the Prix 2017 du club de lecture de la Librairie des Enfants.
Winner of the Prix "Griffe noire" ex-aequo du meilleur roman Jeune Adulte pour l'année 2017.
Winner of Prix du « Meilleur personnage drôle du CLA book awards 2017 ».
Shortlisted for the Prix Farniente 15+ 2019
Shorlisted for the Prix libre2lire 2019
Part of the Librairie Grangier's Summer Selection
Perfect for fans of Becky Albertalli and Nicola Yoon, I Am Your Sun is a beautifully and unexpectedly funny story of friendship, love and family.

Deborah's senior year of high school is not off to the best of starts: the stray dog she's taken in has shown an extraordinary determination to destroy every single pair of shoes she owns, her best friend is not in her class and her mother is behaving erratically, frantically cutting out magazines. But the worst is yet to come as Deborah witnesses her father kissing an attractive stranger with long curly hair.

Deborah's entire world slowly crumbles as her mother withers away, her father becomes more and more absent and her best friend is off living her first love story. Although Deborah makes new friends – Jamal who has a fascination for tarantulas and her crush Victor whose heart belongs to another – she is still drowning. With graduation around the corner, Deborah is going to need all the help she can get – friends, courage and a large dose of humour – to break through the clouds and let her inner sun shine.

I Am Your Sun is the coming of age story of young girl armed with biting humour entering into adulthood by saving her mother's life.

Rights
Audio Rights
Available
The audio rights are handled by Flammarion.
Roxane Edouard manages the translation rights for I Am Your Sun
Translation Rights Sold
German
World
Thienemann Verlag
Hungarian
World
Mano Konyvek, Lira Books Ltd.
Spanish
World
Nocturna Ediciones
Media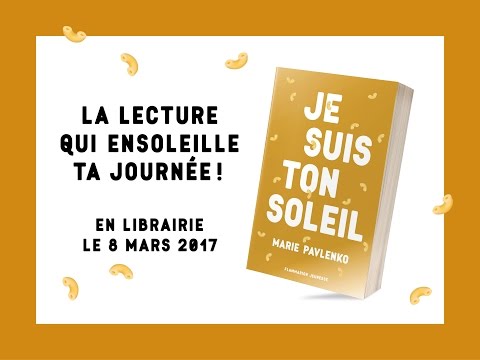 Reviews
Une description de l'adolescence!

Goussainville ma ville
Un roman follement drôle qui nous parle de l'adolescence avec justesse

Le Comptoir de la BD
Un coup de coeur feel good !



As You Like
Un roman pour ados qui pourrait bien être dévoré par des adultes



La Provence
Un roman pour adolescents ? Mieux : une fontaine de jouvence pour tous.



Glamour
Ce roman livre la recette anti-déprime : un tiers d'humour, un tiers d'amis et un tiers de courage, même si - on le sait - il prend parfois la forme du désespoir…



Phosphore
Un roman qui porte bien son nom, une héroïne un peu barjo et une jolie écriture.



Okapi 100% Ado
Un roman drôle, juste et émouvant, que l'on ne lâche qu'à la dernière page!



Citrouille
Un régal de lecture, intelligent et émouvant, jamais gnangnan.



Prima
Déborah va riposter à tous ces chamboulements par un haut les coeurs et une verve sans pareille.



Elle
Ce roman est un de ces ovnis, une de ces pépites que l'on lit, qui nous bouleversent, nous transportent pour mettre un brin de soleil et de folie dans le quotidien chaque fois que la vie est vache, grise et moche !



Bloggers Magazine
A thrilling and impressive approach to climate change and ecological destruction.
Münchner Merkur
Thrilling and profound novel. [Pavlenko] presents a future in a destroyed environment [...] an awe-inspiring, current, and important novel.
Jury of Climate Book of the Month May
This novel gets our unconditional goodwill as Pavlenko resists dystopian gimmicks. The dystopia remains a contained background to an emotionally credible, touching, educating story in the best way.
Environmental Network Switzerland
An adventurous novel that invites readers to reflect and discuss.
Mitteldeutsche Zeitung
Climate change as a crime story for young people: this story shows why trees are so important for life on earth.
Kruschel Kinderzeitung
Coup de coeur à dévorer sans attendre!

Vivement Dimanche