book
| Non-Fiction
| 2009
UK & Comm →
Harvill Secker
(Ed. Stuart Williams)
Do you wonder where it's all going to end? Does the word 'celebrity' sound like a great name for a fifth horseman of the apocalypse? Do you doubt there's even time to build a fallout shelter? Then this book is for you: an invaluable primer to the celebriscape, a world expanding twice as fast as the universe it inhabits.

Celebrity is a coruscating, hilarious, thinking person's guide to a world in which it is considered reasonable that Angelina Jolie advises on the Iraqi reconstruction effort, Charlie Sheen analyzes 9/11, and in which Jude Law's views on the Taliban are taken seriously. Anatomizing every aspect of our crazed world, Celebrity tackles the big topics, including 'Celebrity Activism - when celebrities care', 'Celebrities and the Middle East: a troubled region's brightest hope?', and 'Celebrity Religions: who do the worshipped worship?'.

Celebrity also provides indispensable resources: a glossary of common words or expressions - such as 'She's suffering from exhaustion' (She has a prescription painkiller problem), 'She has a prescription painkiller problem' (She has a coke problem) and so on - and a diagram of a generic celebrity entourage, clearly explaining the precise role of every nutritionist, lawyer and canine beautician.

Celebrity is a roadmap, a survivalist's guide, a Rosetta Stone for our times: you are not equipped to engage with the world without a copy.
Rights
Audio Rights
Available
The audio rights are handled by Alice Lutyens.
Claire Nozieres manages the translation rights for Celebrity
Media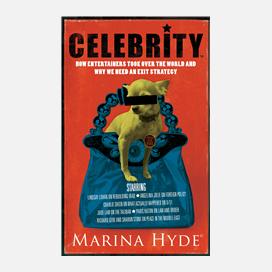 Reviews
Damn good fun. It's a brilliant read, a surreal whistle-stop tour through the rogues' gallery of 21st century celebrities.
Scotland on Sunday
A smart, sassy and brilliantly funny deflation of some Zeppelin-sized egos.
Christopher Hart
Sunday Times
An excoriating, needle-sharp and superbly funny attack on `stars' who abuse their fame.
Metro