tv


Producer

Paul Schlesinger

Starring
Alice Lowe
Kris Marshall
Andrew Scott

Production Company BBC Productions
Mark Chappell's My Life in Film revolved around an ingenious conceit: as Art and Jones pursue their every day lives haplessly attempting to carve themselves careers as indie film makers, unbeknownst to them their adventures follow the plot lines of iconic films.
When Art falls in love with the next door neighbour, little does he realize how closely his travails mirror Rear Window; and when the next door neighbour asks him to look after her goldfish, and the pet is tragically slain, it's doesn't occur to him quite how similar the experience is to certain aspects of Shallow Grave...
Starring Kris Marshall, Andrew Scott and Alice Lowe and directed by award winning short film director Toby Macdonald, My Life in Film was subsequently developed in the US as a changed format with Mark penning the pilot script.
Media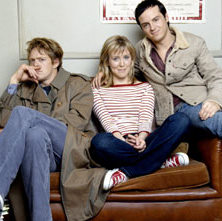 Reviews
This really is an excellent comedy series.
Time Out