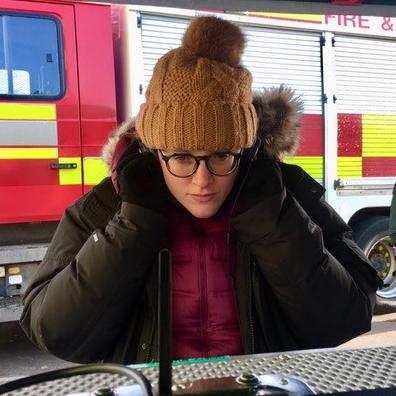 Miranda directed two episodes of Casualty for the BBC, where she enjoyed getting to set fire to someone and nearly crash a train all within strict COVID restrictions! Before this she directed a block of BBC detective drama Shakespeare and Hathaway on location in Stratford-upon-Avon and she has been a returning director on flagship daytime drama Doctors - after gaining a place on the coveted BBC New Directors Scheme a couple of years ago. Alongside this she has directed several award winning short films which have led to her being selected for the BFI Network x BAFTA Crew and the Berlinale Talent Lab as a writer/director. Her latest short, Evie, a near future sci-fi premiered at Encounters and has screened at major festivals internationally.
She has worked in the film and television industry for nearly ten years in a range of roles, including in production and as casting assistant to Susie Figgis, before moving into directing full-time. She has a MA in Social and Political Science from the University of Cambridge.
Miranda is currently working on Holby City for the BBC and recently directed a block of Hollyoaks for Lime Pictures/Channel4.
Television
Director
Lime Pictures
for
Channel 4
Producer
Loretta Preece and Sean Gleeson
Creator
Paul Matthew Thompson, Jude Tindall
An oddball couple of private detectives named Luella Shakespeare and Frank Hathaway investigate crime in Stratford-upon-Avon.

Producer
Mike Hobson & Peter Lloyd
Film
Writer & Director
Producer
Jessica Benhamou
Starring
Harry Gilby
Jack Loxton
Producer
Fourth Culture Films
Starring
Tianna Webster
Director
Starring
Kate Lassman Long
Producer
Anu Anderson & Stathi Twins
Starring
Jason Flemyng
Jo Joyner