book
| Fiction
| 2014
World →
Scribe
(Ed. Henry Rosenbloom)
Detective Leone Scamarcio, the son of a former leading mafioso, has turned his back on the family business, and has joined the Rome police force. He may be one of the last honest men in Italy.
But when Scamarcio is handed a file of extremely compromising photographs of a high-profile Italian politician, and told to 'deal with it', he knows he's in for trouble. And when a young man is found stabbed to death in Rome, and a young American girl disappears on a beach in Elba, Scamarcio's job gets a whole lot more complicated.
Worst of all, every lead seems to implicate the prime minister — a multi-media baron, and the most powerful man in Italy. As the case spins out of control, and his own past catches up with him, Scamarcio must navigate the darkest currents of Italian society — only to find that nothing is as it seems, and that the price of truth may be higher than he can pay.
Rights
Film Rights
Available
Contact Luke Speed for more information
Audio Rights
Available
The audio rights are handled by Alice Lutyens.
Scribe manages the translation rights for The Few
Media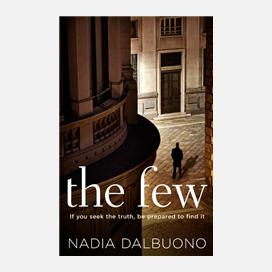 Reviews
Has Donna Leon found her match?

Love Reading
The Few is an enjoyable, well-written mystery and Scamarcio has a lot of scope for further development.

Killing Time
Nicely sitting alongside the ranks of Donna Leon, Michael Dibdin and Tobias Jones, Nadia Dalbuono has crafted an engaging thriller with a fascinating and likeable police protagonist . . . a thoroughly enjoyable and thought-provoking debut.
Crime Fiction Lover
Full Review
Dalbuono has a nose for the topical and the gritty undercurrents of Italian society. And at the end there are enough unanswered questions for another enthralling tale to come.
Verdict: Compelling, unsettling
Courier Mail
Full Review
Corruption, politics, and personal agendas combine to create
a murky atmosphere of confusion and chaos . . . Slow burning, slow building, but ultimately rewarding.
Good Reading
A professional and confident foray into the realms of crime fiction . . . Nadia Dalbuono drives her complex plot as though it were [an] Alfa Romeo Spider . . . This detective has many more novels in him than the modest two-volume series planned so far.
The Saturday Age
Full Review