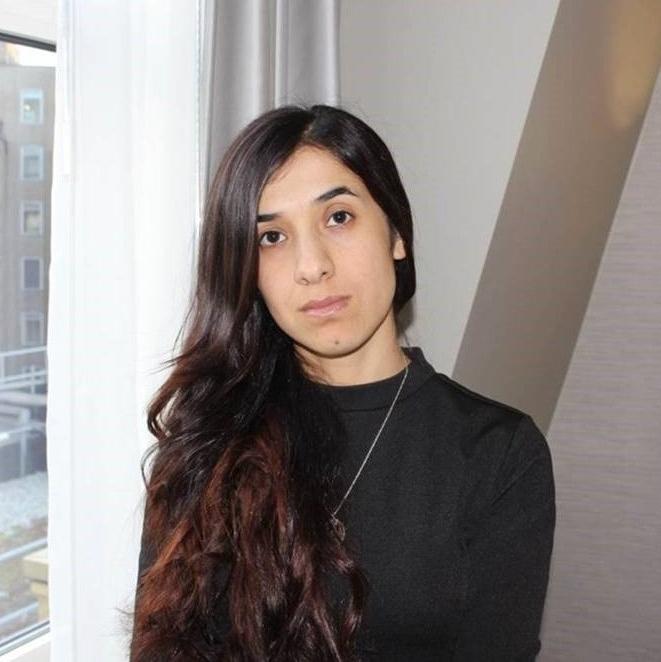 Nadia


Murad

Nobel Peace Laureate 2018
Nadia Murad is a human rights activist. She is the recipient of the Vaclav Havel Human Rights Prize and the Sakharov Prize, and is the UN's first Goodwill Ambassador for the Dignity of Survivors of Human Trafficking. Together with Yazda, a Yazidi rights organization, she is currently working to bring the Islamic State before the International Criminal Court on charges of genocide and crimes against humanity. She is also the founder of Nadia's Initiative, a program dedicated to helping survivors of genocide and human trafficking to heal and rebuild their communities.

Murad provides a rare glimpse into the rich culture of the Yazidi. Her memoir is powerful and heart-breaking and will inspire the world to action.
Heidi Uphoff
Library Journal on The Last Girl: A Memoir
Human rights activist Murad recounts her captivity in Iraq as a sabiya, or sex slave, held by ISIS in this brilliant and intense memoir. This book is a clear-eyed account of ISIS's cruelty and the devastation caused by the war in Iraq.
Publishers Weekly
on The Last Girl: A Memoir
Thank you to @ChapmanU for the surprise unveiling of my statue today. I very much look forward to continuing to wor… https://t.co/WPueFoLbeO
Follow @NadiaMuradBasee
A raw, terrifying account of religious genocide and life in captivity under the Islamic State by a young Yazidi woman who survived it. With vivid detail and genuine, heartbreaking emotion, the author lays bare not only her unimaginable tragedy, but also the tragedies of an entire people whose plight is largely ignored by the rest of the world. Human rights lawyer and activist Amal Clooney provides the foreword. A devastating yet ultimately inspiring memoir that doubles as an urgent call to action.
Kirkus
on The Last Girl: A Memoir