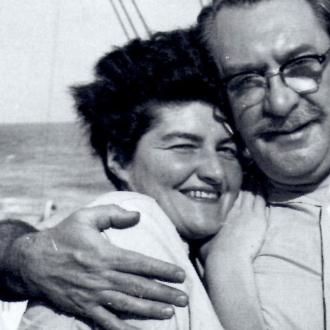 Nancy


Spain

Writer and broadcaster

1917–1964






Nancy Spain was one of the most celebrated writers and broadcasters of the 1940s, '50s and '60s. Hilarious, controversial and brilliant, she was frequently litigated against for her newspaper columns – Evelyn Waugh successfully sued her for libel… twice.

She was also the author of 9 brilliant detective novels, writing with a unique style that marries the acid wit of Dorothy Parker with the English silliness of Wodehouse, all wrapped around an intricacy of plotting worthy of Agatha Christie. Written between 1946 and 1952, they feature a wide cast of charismatic misfits, including Johnny DuVivien, boxer manqué and Soho nightclub owner, and Miriam Birdseye, deceptively ditzy actress and keen amateur detective.
Spain was well on her way to becoming a comic institution when she tragically died in a plane crash alongside her long-term partner, Joan Werner Laurie.
Detective Novels
Death Before Wicket (1946)

Poison in Play (1945)

Murder, Bless It (1948)

Death Goes On Skis (1949)

Poison for Teacher (1949)

Cinderella Goes to the Morgue (1950)

R in the Month (1950)

Not Wanted On Voyage (1951)

Out, Damned Tot (1952)