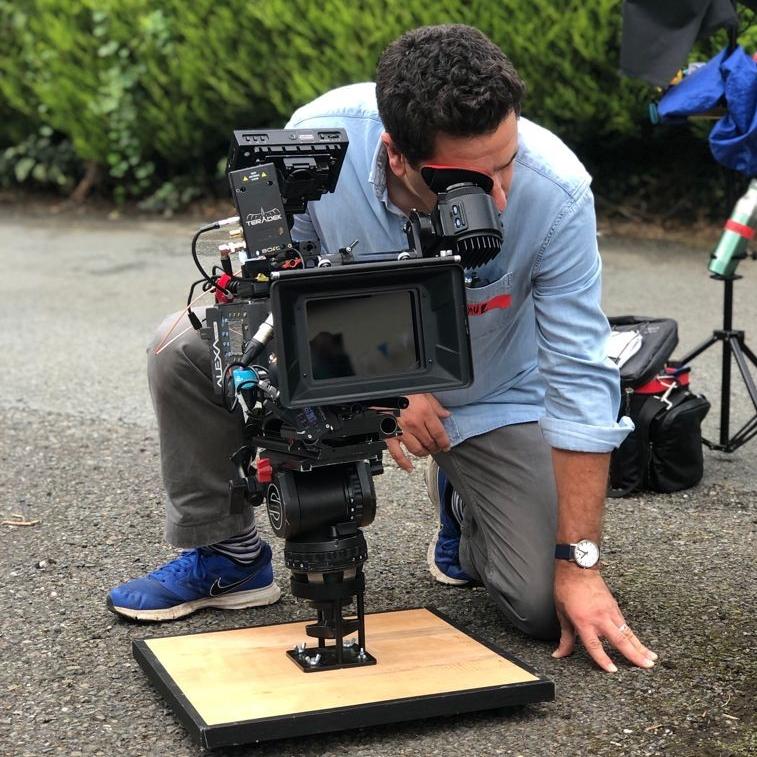 Paul


Robinson

Director for Film & Theatre
Paul Robinson has just directed his first feature film, And Then Come the Nightjars for Finite Films.
Since 2016 Paul has been Artistic Director of The Stephen Joseph Theatre where productions include Brief Encounter, Constellations, The Offing, Little Voice, Goth Weekend, The 39 Steps, Stepping Out, A Christmas Carol, Pinnochio, Alice In Wonderland and The Snow Queen.
Paul trained as a director at The Bristol Old Vic Theatre School. Shortly after, he received an Arts Council Directing Bursary at The Manchester Royal Exchange. He was selected to attend the National Theatre's Advanced Directors' Course and was then Staff Director at the National Theatre for three years.
Paul was Joint Artistic Director of Theatre503 from 2007 – 2012, when the theatre was turned into a multi award-winning new writing powerhouse. Credits include: Salt Meets Wound, They Have Oak Trees in North Carolina (also Radio 4), The Lifesavers (TMA nominated), This Charming Man, Desolate Heaven and The Life of Stuff.
Paul took on sole leadership of Theatre503 from 2012, introducing the Trafalgar Transfer season and the International Playwriting Award. He has been twice nominated for Best Artistic Director at the Off West End Awards. Paul's productions of And Then Come the Nightjars, A Handful of Stars and Land of Our Fathers all received huge critical acclaim and garnered a total of twelve Off West End Award nominations, including Best Director for each.
Other credits include: Breakfast with Mugabe, The Swallowing Dark (TMA award winner), My Mother Said I Never Should (starring Maureen Lipman) and Honour (starring Henry Goodman and Imogen Stubbs).
Theatre
Director
Starring
Henry Goodman
Imogen Stubbs
Revival of Joanna Murray-Smith's play, Honour paints an unflinching portrait of what happens when a secure marriage suddenly stalls.
Starring
Katie Brayben
Caroline Faber
Maureen Lipman
Serena Manteghi
Revival of Charlotte Keatley's play exploring relationships between mothers and daughters

Touring production of the drama about a group of miners stuck down a coal mine
Starring
David Fielder
Nigel Hastings
Premiere of play set on a farm in the south-west of England during the foot and mouth crisis
Starring
Clive Merrison
Patrick Brennan
Paul Prescott
Kyle Rees
Luke Eliott
Drama about a group of Welsh miners trapped in a coal mine
Theatre503 & Trafalgar Studios
Starring
Keith Duffy
Ciaran Owens
Michael O'Hagan
Maureen O'Connell
Revival of Billy Roche's play about a young man living in Wexford
Theatre503 & Trafalgar Studios
Starring
Ben Adams
Paula Masterton
Gregory Finnegan
Rhys Owen
Pamela Dwyer
Revival of Simon Donald's play as part of Theatre 503's Second Look
Starring
Brid Brennan
Carla Langley
Evelyn Lockley
Opening play for Paul's first season as solo Artistic Director of Theatre503
Writer
Alice Birch, Ben Ellis, Matt Hartley, Lizzie Nunnery & Rex Obano
Starring
Alex Beckett
Katie McGuinness
Kate Sissons
Mark Wingett
Jacqueline King
Collaborative project with plays from five writers
Starring
Ruaraidh Murray
Sell out show at the Edinburgh fringe
Gilded Balloon, Edinburgh
Starring
Allyson Ava-Brown
Wil Johnson
Psychological thriller about a man and his son who have fled Zimbabwe
Liverpool Playhouse Studio
Writer
Gabriel Bisset-Smith
Starring
Syrus Lowe
Kate Sissons
David Verry
Sarah Berger
Political satire about a young man fast-tracked to become leader of the Green Party
Writer
Boris Cezek, Kris Spiteri, Malcolm Galea & Abigail Guan
Starring
David Burt
Brandan Cull
Jody Peach
Sophia Thierens
Alain Terzoli
Musical comedy about a Maltese man who becomes a porn star in America
Starring
Scarlet Johnson
Tom Stuart
Play about a woman who has a psychic connection to her husband who is fighting in the Afghanistan war
Theatre503 & Latitude Festival
Starring
Keith Bartlett
Laurence Mitchell
Gina Isaac
Rupert Simonian
A dystopian vision of the future where parents are no longer trusted to bring up their children
Play about a manor house where children are experimented upon
Starring
Saskia Reeves
Rafe Spall
Revival of Athol Fugard's play about a brother and sister searching for compensation money they believe their father has hidden
Starring
Janet Amsden
Simon Harrison
Hilton McRae
Play about a couple whose son disappears when he is five and twenty-two years later a young man arrives at their home claiming to be their son
Starring
Miles Anderson
Joseph Marcell
Andi Osho
Nicholas Bailey
Play about a white psychiatrist brought in to help President Mugabe who is battling with mental demons
Starring
Catherine Cusack
Emilio Doorgasing
Matthew Douglas
Damian O'Hare
Rebecca O'Mara
A writer goes to Central Asia to research his book during the height of the War on Terror
Starring
Emma Fielding
Dominic West
David Calder
Peter Sullivan
Martin Chamberlain
West End transfer of the play about the link between rock music, East European dissidence and the fall of Communism
Starring
Fiona Button
Monica Bertei
Jamie Belman
Merryn Owen
Play about a young woman moving her belongings out of her ex-boyfriend's flat
Starring
Sello Maake Ka-Ncube
Wale Ojo
Lucian Msamati
Stephen Billington
Wela Frasier
Play about the murder of a journalist working for a newspaper in Apartheid era South Africa
Starring
Verity Harding
Sara Masters
Marianne Oldham
Starring
Kenneth Branagh
Nicola Walker
Stephen Greif
Staff director on production of Mamet's play about a businessman who walks out on his life
Writer
William Shakespeare
Starring
Simon Day
Olivia Williams
Kate Fleetwood
Robin Soans
Richard Henders
Staff director on Trevor Nunn's production of the Shakespearean classic
Starring
Stephen Dillane
Douglas Henshall
Will Keen
Staff director on the trilogy of plays dealing with Russian revolutionaries
Starring
Katy Carmichael
Adele Parry
Ben Porter
Lexi Strauss
Gareth Abel
Four short stories about teenagers dealing with morality
Drama about a group of bus passengers trapped in diner by a snowstorm
Revival of Strindberg's classic play set over the course of midsummer evening in Sweden
Writer