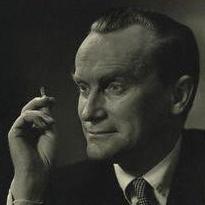 Peter


Quennell

Novelist, poet and biographer

1905–1993
'Probably the last genuine example of the English man of letters' The Times
Peter Courtney Quennell was a biographer, literary historian, editor, essayist, poet, and critic, best known for his scholarly work on Byron and his biographies of such figures as Proust, Baudelaire, Dr Johnson and Boswell.
Quennell was educated at Berkhamstead Grammar School and Balliol College, Oxford. His first poems were published in an anthology when he was just 17, which brought him to the attention of writers such as Edith Sitwell. He published his first book
Masques and Poems
, in 1922, and followed this with two further poetry collections, before turning to prose as a journalist and biographer.
In 1930 Quennell taught at the University of Tokyo, and later published a book on his experiences there. As the editor of
Cornhill Magazine
(1944-51), he published such authors as Truman Capote, Andre Gide, Somerset Maugham and H. G. Wells. He was also the co-founded the magazine
History Today
, maintaining his position as co-editor for nearly twenty years.
In addition to his works of biography and literary history, Quennell published two volumes of autobiography. He also received the CBE and was knighted in 1992.