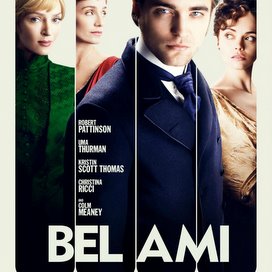 Rachel


Bennette

Writer for film and television
Rachel spent several years working in development and as a script editor for companies such as BBC Films and Film Four before becoming a film and television writer. She has worked on adaptations of literary works by Daphne du Maurier and George Meredith and on several feature films as well as writing on the BBC series Lark Rise To Candleford and Lewis for ITV.
Rachel Bennette adapted Bel Ami, a feature adaptation of Guy Maupassant's short story which completed shooting in 2010. Directed by Declan Donnellan and Nick Ormerod, Bel Ami stars Robert Pattinson, Uma Thurman, Christina Ricci and Kristin Scott Thomas.
Rachel adapted Zadie Smith's NW as a single for BBC2, which was nominated for a BAFTA, as well as writing two episodes of Ripper Street for Amazon Prime/BBC. She
Rachel is currently showrunning Shogun for DNA/FX with Ronan Bennett and developing projects for Mammoth Screen and Red Limited.
Television
Writer
Historical Drama set in feudal Japan, based on James Clavell's 1975 novel.
Drama adaptation of Philip K. Dick's anthology
Sony Pictures Television
for
Channel 4,
Amazon Studios
In delevelopment
Mammoth Screen
In development
Producer
Betsan Morris Evans
Starring
Phoebe Fox
Nikki Amuka-Bird
O.T. Fagbenle
Tiger Aspect
for
Amazon Prime Instant Video
Starring
Matthew Macfadyen
Jerome Flynn
Adam Rothenberg
Episode of the third series of the critically acclaimed period drama by Richard Warlow
Tiger Aspect
for
Amazon Prime Instant Video,
BBC1
Treatment for a 6 x 60' serial
Dramatisation of the George Eliot novel
Starring
Kevin Whately
Laurence Fox
Starring
Olivia Hallinan
Sarah Lancashire
Julia Sawalha
Treatment for hour-long drama
Original TV series idea. Co-created with Lucy Moore.
Hillbilly Television/Talkback
Single Film. Daphne Du Maurier short story adaptation
Single Film. Adaptation of the George Meredith novel
Storylining two series of six hour-long episodes of Anthony Trollope's Palliser novels for Andrew Davies. To write one episode of series one.
Director
David Innes Edwards
Starring
Julia Sawalha
Ben Aldridge
Ruby Bentall
Olivia Hallinan
Pilot script for an original series in development
Hillbilly Television
for
Sky 1
1 x 30'
Script Editor
Starring
Dame Helen Mirren
David O'Hara
Julia Lane
John Brobbey
Award-winning crime drama series starring Dame Helen Mirren as the formidable Detective Superintendent Jane Tennison
Granda Television
for
ITV
Writer & Creator
Film
Writer
Director
Declan Donnellan/Nick Ormerod
Starring
Uma Thurman
Christina Ricci
Kristin Scott Thomas
Based on short the story by Guy de Maupassant.
Producer
Stewart Mackinnon
Rewrite
Other
Script Executive
Development Executive
Producer Uberto Pasolini, under deal with Fox Searchlight.
Development Producer