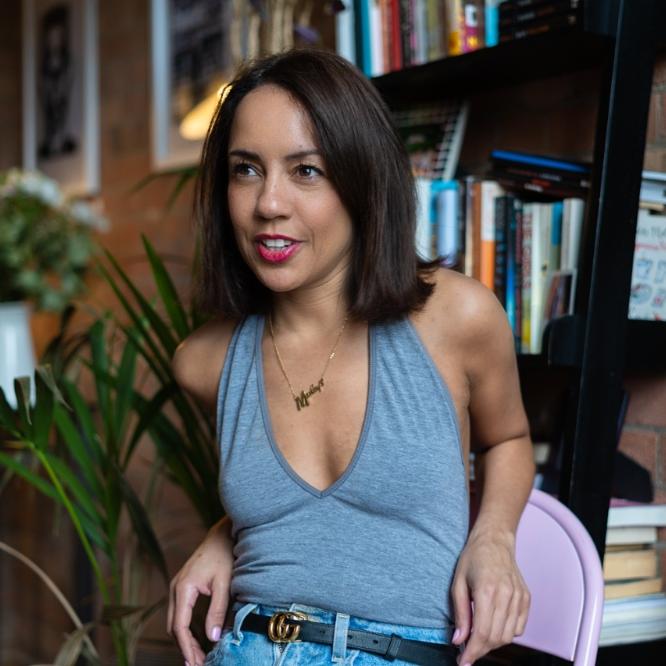 Rachel


De-Lahay

Writer for Theatre, Film and TV
Rachel's debut THE WESTBRIDGE premiered at the Royal Court in 2011 and went on to win the 2012 Writers Guild Award for Best Play as well as the 2011 Alfred Fagon Award. Rachel followed this up with ROUTES, which opened Vicky Featherstone's first season at the Royal Court in 2013. The play went on to earn Rachel the Charles Wintour Award for Most Promising Playwright at the Evening Standard Awards 2013.
Rachel's third full-length play CIRLCES debuted at Birmingham Rep and transferred to the Tricycle Theatre. In 2015, the Bush commissioned Rachel to write a monologue for Black Lives, Black Words. The monologue became MY WHITE BEST FRIEND, which became the template for Rachel to collaborate with and commission a number of established and emerging voices in theatre under the Bunker and the Royal Court.
In television, Rachel has collaborated with Jack Thorne on Channel 4's KIRI and Netflix's THE EDDY. She has written on episodes of THE FEED and NOUGHTS AND CROSSES, as well as developing and adapting material of her own with various production companies in the UK and the US. Current projects include a TV adaptation of the David Cronenberg film DEAD RINGERS, and an adaptation of the Jacob Ross novel THE BONE READERS.
Television
Writer
Starring
Rachel Weisz
A gender-swapped reimagining of David Cronenberg's cult classic 80s film.
Based on the crime novel by Jacob Ross.
Pilot Pictures
In development
Producer
Patrick Spence & Katie Swinden
Set in contemporary multicultural Paris, The Eddy revolves around a club, its owner, the house band, and the chaotic city that surrounds them.

Fifty Fathoms Productions
for
Netflix
Director
Julian Holmes and Koby Adom
Starring
Jack Rowan
Masali Baduza
Adaptation of Malorie Blackman's YA series. A gripping story of first love set in a dangerous alternate world, where racism divides society.

Director
Tinge Krishnan / Colin Teague
Studio Lambert
for
Amazon,
Liberty Global
In development
Starring
Antonia Thomas
Set in 2028, on the 100th anniversary of all women in the UK getting the vote. What will the situation be like for women then?


Starring
Sarah Lancashire
Paapa Essiedu
Cara Theobold
A drama dealing with the abduction and murder of a young black girl, soon to be adopted by her white foster family, and the trail of lies, blame, guilt and notoriety which follow.


Director
Gabriel Bisset-Smith
Starring
Luke Barnes
Christian Contreras
Using 24 hours of footage from the fictional surveillance programme SATURNEYE, The Last Hours of Laura K is a disconcertingly intimate, unfiltered and impartial look into Laura's last hours.
Writer & Creator
Additional Writer
Film
Writer
English-language adaptation of the Park Chan-wook film of the same name.
Independent Film Productions Ltd Broadcaster
Producer
Matt Hall, Emily McLaughlin, Gary Richens
Director
Gbolahan Obisesan
Starring
Anna Maxwell Martin
Lottie Thornborrow
Liz White
Short film commissioned by The Royal Court and The Guardian
Independent Films / Film4
In development
Theatre
Writer & Creator
Creator
Rachel De-Lahay & Milli Bhatia (Co-curators)
A collection of spoken letters that engage with a range of topics, from racial tensions, microaggressions and emotional labour, to queer desire, prejudice and otherness.

Writer
Circles
Catherine Johnson Award for Best Play
As two teenagers form an unlikely friendship on a bus, a mother observes her daughter's attempt to leave an abusive relationship. A bold exploration of cycles of violence.

Birmingham Repertory Theatre
Routes
Evening Standard Award Winner for Most Promising Playwright 2013
A cutting play about immigration and exile, and what happens when people fall through the cracks. Routes opens up the borders of friendship and family.



The lives and loves of Peckham locals will be played out in an omnibus of ten 5 minute episodes.



The Westbridge
Alfred Fagon Award Winner 2011, Writer's Guild Award Winner 2012 for Best Play
The accusation of a Black teenager sparks disturbance on the South London streets. While tensions rise, a couple from very different backgrounds navigate the minefield between them and their families.