book
| Fiction
| 2014
UK & Comm →
Simon & Schuster
(Ed. Suzanne Baboneau)
1961: Born on the day that WW2 broke out, 21-year-old Fay Knox cannot remember her early childhood in London, before she moved to a Norfolk village with her mother, Kitty. Though she has seen a photograph of her father, she does not recall him either. He died, she was told, in an air raid, and their house destroyed along with all their possessions. Why then, on a visit to Paris on tour with her orchestra, does a strange series of events suggest that she spent the war there instead? There is only one clue to follow, an address on the luggage label of an old canvas satchel. But will the truth hurt or heal?

1937: Eugene Knox, a young American doctor, catches sight of 19-year-old Kitty Travers on the day she arrives in Paris, and cannot get her out of his mind. She has come to study the piano at the famed Conservatoire, and lodges at a convent near Notre Dame. Eugene and Kitty will fall in love, marry and have a daughter, but France's humiliating defeat by Germany is not far behind, and the little family must suffer life under Nazi occupation. Some Parisians keep their heads down and survive, others collaborate with the enemy while others resist.

The different actions of Eugene, Kitty and their friends will have devastating consequences that echo down the generations.

Rights
Katie McGowan manages the translation rights for A Week in Paris
Film Rights
Available
Contact Sheila Crowley for more information
Translation Rights Sold
Lithuanian
World
Tyto Alba
Media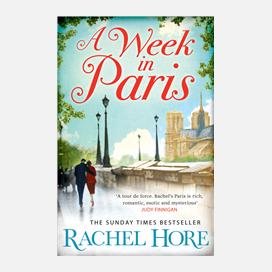 Reviews
Hore's story of love, loss and resilience is a page-turner full of romance and period detail. Recommended for historical fiction collections.
Library Journal
Hore again proves her talent for combining history and generational family drama in parallel stories, adding hints of romance and psychic ability to form an intensely compelling story
Booklist Review (starred)