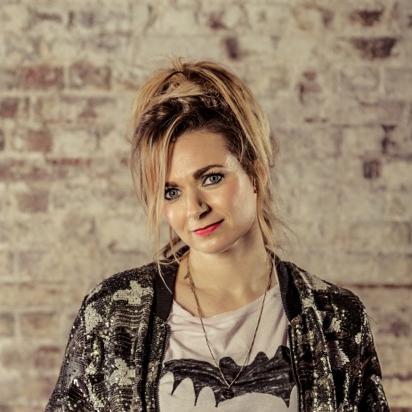 Rebecca


Crookshank

Rebecca Crookshank is a writer and international visual artist with a unique story.



Aged 17, she joined the Royal Air Force. Her lived experience informed her later writing of Whiskey Tango Foxtrot, an award-winning solo play which toured the UK, receiving its international premiere on 42nd Street, New York. Her autobiographical play explores sexual harassment, inequality and injustice in military institutions. The show was supported by Arts Council England, published by Oberon books, was shortlisted for a Liberty Human Rights Arts Award. The play was nominated for Best New Play, Best New Production, Best Director and Best Actress in the Broadway World Awards and was shortlisted for the Brighton Fringe Audience Choice Award.
Rebecca is working across Film, Television and Theatre. Since being catapulted into the public eye, she has been an activist for equality and human rights and has featured on BBC's Victoria Derbyshire Show and Channel 4 News.
Rebecca was selected as one of the commissioned playwrights for the Old Vic 12. As a result, she is currently developing an original TV series for Sky Drama.
Rebecca was selected for two British Council artistic residencies in Vietnam, and her time spent there has led her to develop UK/Vietnam revenge thriller film The Red River with BFI Vision Awardee Lunar Lander Films, set in the UK/Hanoi. Other international world includes developing Craig Zobel's 2012 film Compliance for stage, directed by Whitney Mosery in New York.
Rebecca is currently developing a new play Secretions of the Lac Beetle, set inside a nail bar, inspired by revolutionary women, cross-cultural friendship and her research in South East Asia. The play received its first reading at The Park Theatre in 2019.
Rebecca is alumni of the Royal Court Writers Group and the Soho Theatre Writers Lab. She has featured and written for The Telegraph, The Huffington Post, and The Guardian. Her interview on Channel 4 News received over 5 million views in one week. Her mission continues.
Theatre
Writer
Selected as part of Theatre 503's Rapid Write Response
Development and Staged reading
Adapted from the 2012 film by Craig Zobel
Edinburgh World Premier (Underbelly), UK Tour & New York United Solo Festival (Theatre Row, 42nd Street)
Film
Writer
Feature film (In development)
Lunar Lander Films Broadcaster
The short film was officially selected for:
​CBFF 2019 - BAFTA Cymru Qualifying Film Festival
World of Film International Festival Glasgow 2018
London-Worldwide Comedy Short film festival 2018
Oregon Short Film Festival 2019
Best comedy Heart of England Film Festival
WOFFF (Women over 50 film festival) 2019
Television
Writer
An original series in (In Development)

Adaptation of the novel Post Mortem (In Development)

Co-writer
Other
Writer
Commissioned Playwright (2017)
Developed with WARP films and Bcr8tive



Workshop of a new play about infertility and friendship



Writer and artist in residence at Frederic Bremer E17

Recipient of the Artist International Development Fund 2018



Artist Residency in Hanoi, Vietnam

Director
2007 - 2015
Company Director of the SHAC/ SHACADEMY Ltd. An Education workshop company in Devon reaching out to 500 young people per week. Devised work and after school workshops encouraging new writing and creative consultancy with schools. Clients include The Royal Ballet, LAMDA, The International School of Harrow Beijing and the British Vietnamese International School.