book
| Fiction
| Jan 2021
UK →
Faber & Faber
(Ed. Emmie Francis)
SHORTLISTED FOR THE DESMOND ELLIOTT PRIZE 2021
SHORTLISTED FOR THE GOLDSMITHS PRIZE 2021
A formally experimental, dazzlingly original shot-in-the arm of a debut, little scratch reveals one young woman's every thought over the course of twenty-four hours.
little scratch tells the story of an unnamed woman living in a world of office politics, clock-watching and emoji-texting as she relays what it takes to get through mundanity in the wake of a recent sexual assault.
Formatted in continuously interweaving columns that chart the feedback loop of memory, the senses, and modern distractions with witty precision, our narrator becomes increasingly anxious as the day moves on; and increasingly intent on distracting herself. Must she really drink eight glasses of water a day to stay hydrated? Does the word "rape" apply to what happened to her? Why is the etiquette of the women's bathroom so fraught? Does the colleague who keeps offering to make her tea know something? And why can't she stop scratching?
Fiercely moving and slyly profound, little scratch is a fearless and defiantly playful look at how our minds function in — and survive — the darkest moments.
Rebecca Watson writes for publications including the Financial Times, The Times Literary Supplement, and Granta. In 2018 she was short-listed for the White Review Short Story Prize. This is her debut novel.
Rights
Audio Rights
Available
The audio rights are handled by Alice Lutyens.
Film Rights
Available
Contact Luke Speed for more information
Katie McGowan manages the translation rights for little scratch
Translation Rights Sold
Dutch
World
Uitgeverij Nijgh & Van Ditmar
French
World
Editions Grassett & Fasquelle
Spanish
World
Editorial Barrett
Vietnamese
World
Coral Books
Media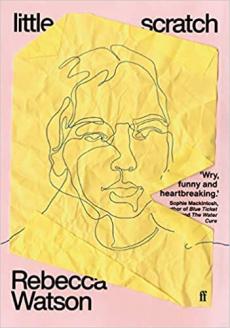 Reviews
little scratch is playful, precise and insightful. Rebecca Watson's writing bursts with enormous energy.



Nicole Flattery
Author of Show Them a Good Time
"Little Scratch" absorbs the more fragmented forms of attention and makes of them something rich, assured and sad.

Dustin Illingworth
New York Times
As a way of representing the cacophony of the character's perceptions, British author Watson has created an unusual layout for her words … A daring book whose innovations are balanced by the sad familiarity of its pain.

Kirkus Reviews
Witty, defiant, tender... What a book!

Olivia Sudjic
Author of Sympathy and Exposure
This absolute gem of a book, this gorgeous bid for freedom, is smart as hell and catchy as a pop song. Imagine Marguerite Duras behind the wheel of a twitter handle: ripe, wild, sharp as knives. It is funny, haunting, powerful.
Camden Avery
The Booksmith
In little scratch, we get the remarkable voice of a young woman coming to terms with knowing and naming what has happened to her, what she is living through.
Rick Simonson
Elliott Bay Book Company
little scratch is a singular, wondrous ​piece of fiction, both in its experimental form and its bracing honesty. Immediate, pulsing, poetic - there is so much beauty and truth-telling in this brave book.
Melinda Powers
Bookshop Santa Cruz
little scratch drops us without ceremony into the frenetic, unsettled narration of an unnamed, assault-scarred office worker. I couldn't put it down. ​
Alena Jones
Seminary Co-op
An exciting formal experiment ... In exploding the shape of a story we think we know, Watson forces us to reconsider our assumptions about the linear progression of recovery, as well as the way these events live and linger with us.
Stephen Sparks
Point Reyes Books
Is it prose?! Is it poetry?! Does it really matter when the writing is so compelling? All I can say is WOW!
Peter Maravelis
City Lights Bookstore
I was immediately enveloped in the staccato of little scratch, which spun between wry, funny and heartbreaking. It captures beautifully a rhythm not just of trauma, but also of the small, defiant, everyday happinesses that push through and against it.
Sophie Mackintosh
Author of The Water Cure