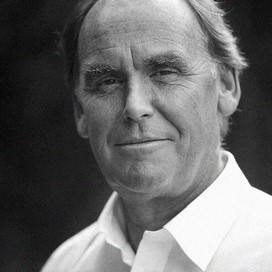 Richard


Boden

Television producer and director

Richard is a producer and director who trained at the BBC and has worked on some of Britain's most memorable prime time comedies, including In Sickness and In Health, 2Point4 Children and Blackadder Goes Forth, the last of which earned him an RTS Award and his first BAFTA.

From the BBC, Richard went on to be Head of Comedy for Carlton and Central TV, before going freelance in 2001, when he directed Time Gentlemen Please for Sky, All About Me for Celador, and The Sketch Show for ITV, which won him a second BAFTA.

In addition to his UK work Richard has worked extensively in the US, directing Just Shoot Me for NBC, Grounded For Life for Warner Bros and a full series of Kelsey Grammer Presents: The Sketch Show for Fox.
In 2009, his series of the comedy show The IT Crowd was awarded a BAFTA for Best Comedy Series.
Television
Director
Writer
Lorna Watson, Ingrid Oliver, Kevin Cecil and Alex Lowe
Starring
Ingrid Oliver
Lorna Watson
Sketch show for BBC 2 starring Lorna Watson and Ingrid Oliver
Starring
Rhys Darby
Jack Doolan
Vic Reeves
Katy Wix
Comedy Showcase pilot about a small town Health & Safety team
Starring
Lucinda Dryzek
Neil Dudgeon
Taylor Fawcett
Patrick Nolan
BBC 1 comedy series about the dysfunctional Riley family
Talkback Thames
for
BBC 1
Starring
Lucinda Dryzek
Niel Dudgeon
Taylor Fawcett
Patrick Nolan
Second series of the hit prime time comedy
Talkback Thames
for
BBC 1
Starring
Alan Carr
Justin Lee Collins
Popular chat and sketch show
Princess Productions
for
Channel 4
Starring
Lucy Barratt
Cicely Giddings
Robert Matthews
David Morley Hale
Comedy drama filmed in a music hall
Writer
Tim Moore & Paul Rose
Starring
Simon Greenall
James Lance
Ingrid Oliver
Hartswood Films
for
BBC 3
Starring
Kelsey Grammer
Comedy sketch show
Grammnet Productions
for
Fox Network USA
Starring
Jasper Carrott
Ryan Cartwright
Jamil Dhillon
Natalia Keery-Fisher
Sitcom about a multicultural family living in Birmingham
Starring
Elizabeth Berrington
Lauren Buglioli
Carli Norris
Frank Skinner
Pilot for a sitcom about a minicab driver lurching from one midlife crisis to another
Starring
Lynsey Bartilson
Kevin Fitzgerald Corrigan
Donal Logue
Megyn Price
Family drama following the lives of Sean and Claudia Finnerty and their unruly children
Carsey Werner Mandabach
for
Warner Brothers Network USA
Starring
Kitty Flanagan
Lee Mack
Jim Tavare
Karen Taylor
Comedy sketch show
Starring
Al Murray
Stand-up comedy show
Starring
Enrico Colantoni
Wendie Malick
Laura San Giacomo
George Segal
Award winning comedy about a woman forced to work at her father's fashion magazine after being fired from her job as an anchorwoman
Writer
Richard Turner & Paul Shearer
Pilot
Writer
Alastair Beaton & John Wells
Starring
Owen Brenman
Kenneth Cranham
Hilary Gish
Angela Thorne
Comedy about Margaret Thatcher and her life after politics
Starring
Clare Buckfield
Julia Hills
Belinda Lang
Gary Olsen
Comedy series following the lives of the Porter family
Writer
Richard Curtis & Ben Elton
Starring
Rowan Atkinson
Stephen Fry
Hugh Laurie
Tim McInnerny
Final series of the BBC1 comedy, which sees Blackadder as an army captain in World War I
Writer
David Croft & Jeremy Lloyd
Starring
Gorden Kaye
Richard Marner
Vicki Michelle
Carmen Silvera
Comedy set during World War II about a Frenchman struggling to run his cafe, deal with the German occupation, run an underground resistance and keep his wife happy
Starring
Lesley Joseph
Pauline Quirke
Linda Robson
Comedy series about two sisters whose husbands are arrested for armed robbery
Writer
Richard Curtis & Ben Elton
Starring
Rowan Atkinson
Stephen Fry
Hugh Laurie
Miranda Richardson
Comedy giving a new twist on Charles Dickens' classic Christmas tale
Starring
Ken Campbell
Arthur English
Carmel McSharry
Warren Mitchell
Sitcom following Alf and Elsie as they struggle to survive on their pensions
Writer
Colin Bostock-Smith
Starring
Tim Brooke-Taylor
Brian Hall
Diane Keen
Garfield Morgan
Comedy about a husband and wife who suddenly become very wealthy when the wife becomes a celebrated author
Writer
Charlotte Bingham & Terence Brady
Starring
James Bolan
Samantha Hurst
Gabrielle Lloyd
Ray Winstone
Drama about a priest who finds himself the guardian of a troubled eight year old girl
Starring
Michael Angelis
Peter Caffrey
Robert Gillepsie
Frederick Jaeger
Comedy-drama about four recovering alcoholics who meet while undergoing psychotherapy in hospital
Starring
Martin Clunes
Patricia Garwood
William Gaunt
Dee Sadler
Comedy about a dysfunctional family
Producer
Writer
Graham Linehan, Sharon Horgan, Helen Linehan & Holly Walsh
Starring
Anna Maxwell Martin
Diane Morgan
Paul Ready
Lucy Punch
Terry Mynott
Pilot navigating the trials and traumas of middle-class motherhood

Delightful Industries
for
BBC2
Writer
Steve Delaney & Graham Linehan
Starring
Steve Delaney
Rory Kinnear
Zara Ahmadi
Chris Ryman
Andy Linden
Ruth Posner
Second series of the comedy about an elderly showbusiness character
Retort and Komedia Entertainment
for
BBC 2
Writer
Graham Linehan and Steve Delaney
Starring
Steve Delaney
Chris Ryman
Sitcom in which elderly showbusiness character Count Arthur Strong attempts to recount his life story
Retort and Komedia Entertainment
for
BBC2
Writer
Graham Linehan and Diet of Worms
Starring
Niall Gaffney
Philippa Dunne
Amy Stephenson
Rory Connolly
Comedy series about a tight knit family from Dublin
Delightful Industries
for
BBC 4
Starring
Sarah Malin
Andrew Sachs
Danny Swanson
Frances de la Tour
Comedy following Shirlet, Lorriane and Nat
Starring
Matt Bardock
James Bolam
Pearce Quigley
Diana Weston
Comedy set in a multi-storey car park
Lawless Films
for
Carlton TV
Award winning puppet satire show
Director & Producer
Writer
Steve Delaney & Graham Linehan
Starring
Steve Delaney
Rory Kinnear
Third series of the comedy about an elderly showbusiness character

Retort and Komedia Entertainment
for
BBC1
In development
Starring
Richard Ayoade
Chris O'Dowd
Katherine Parkinson
Special one-off finale episode of the sitcom
Starring
Richard Ayoade
Chris O'Dowd
Award-winning Channel 4 comedy
Talkback Thames
for
Channel 4
Writer
Richard Herring, Stewar Lee & Al Murray
Starring
Phil Daniels
Jason Freeman
Roy Heather
Andrew Mackay
Comedy set in a rundown pub
Writer
Danny Jacobson & Paul Reiser
Starring
Joanne Farrell
Gary Love
Trevyn McDowell
Tracy-Ann Obermann
Spinoff of the US series Mad About You
Starring
Glen Davies
Shirley Anne Field
Madge Hindle
Sam Kelly
Comedy following Barbara, who acts as unofficial agony aunt for her whole family
Writer
Ray Galton & Alan Simpson
Starring
Peter Jeffrey
Sam Kelly
Paul Merton
Gary Waldhorn
Comedy series remaking scripts written by Ray Galton and Alan Simpson
Starring
Roger Lloyd-Pack
Victor McGuire
Felicity Montagu
Deborah Norton
Comedy about the day to day lives of a group of doctors
Starring
John Barron
John Bird
Diane Fletcher
Lesley Vickerage
Comedy about the hunt to find a new councillor
Writer
Susannah Greenberg & John Wilkinson
Starring
Annette Badland
Nick Brimble
Roland Curram
Roger Sloman
Comedy about the making of a live television news programme
Film
Director
Writer & Director
Writer & Director & Producer