book
| Non-Fiction
| 2010
UK & Canada →
Penguin
(Ed. Stuart Proffit)
Thoughtful Gardening is Robin Lane Fox's first gardening book in 25 years, and marks the 40th year of his weekly columns on gardening for the Financial Times. It is based on his own selection from these widely admired pieces, which he has rewritten and amplified with much new material and new chapters to take readers on a varied and highly enjoyable journey through each season of the gardening year.

It draws on his lifetime of practical gardening and reflects his many years as Garden Master of New College, Oxford, as well as his own Cotswold garden, illustrated here for the first time. It includes his memories of many fellow gardeners whose contributions to garden history are caught in new and vivid detail, from Christopher Lloyd to Rosemary Verey, Valerie Finnis to Nancy Lancaster, with whom he gardened as a young man.

Thoughtful Gardening combines a principled view of the craft of gardening with dozens of new ideas for garden planting and garden visiting and touching reminders of the power of literature and art to deepen what we see and realise in gardens of our own.

Written with Robin Lane Fox's distinctive style and wit, and dazzling in its scope, Thoughtful Gardening is a book of both practical and literary insights which will be enjoyed by wholehearted gardeners and uncommitted onlookers alike.
Rights
Audio Rights
Available
The audio rights are handled by Alice Lutyens.
Liz Dennis manages the translation rights for Thoughtful Gardening
Film Rights
Available
Contact Lily Williams for more information
Translation Rights Sold
German
World
Klett Cotta Verlag
Media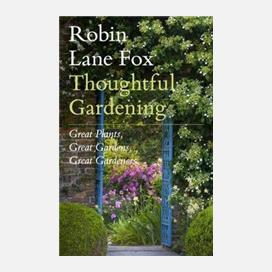 Reviews
Thoughtful Gardening is undoubtedly the best gardening book for the past 30 years...
Helen Dillon
Financial Times
If your aim in life is to live it richly — in thought, in habit, in articulation — then grab the book, fluff the cushions and settle in for some necessary winter's reading. Higher praise, we can't imagine.
Chicago Tribune
This, [Lane Fox's] third gardening book, is also his first in 25 years, but little here feels fusty or irrelevant
The Economist
Full Review
The armchair gardening book of the year.
The Evening Standard
Existing fans will need no persuading, but for those who do not take the pink newspaper, this book provides a way in to one of our finest horticultural writers.
Telegraph
Opinionated, witty, and erudite, this collection is an example of the best garden writing
Publishers Weekly, US
Full Review