Shallow Breath is a mesmerising novel about family secrets and how far you would go to save someone you love.

Two years ago, Desi Priest made a horrific mistake and destroyed her family.

Now, she is coming home to make amends: to her daughter, Maya, who's nurturing her own dangerous plan; to her brother, Jackson, who blames himself; and to her close friend, Pete, who has spent years shielding her from a devastating truth.

But as Desi returns to her beloved house by the ocean, there is a stranger waiting for her. Someone who needs her help. Someone whose arrival will reveal a chain of secrets hidden for over twenty years.

And one by one the family will be forced to confront the possibility that they have somehow got things terribly, tragically wrong …

Set across five continents, Shallow Breath is a compelling novel of dashed dreams and second chances. But most of all it is a story about love, and what it really means to be free.

Rights
Liz Dennis manages the translation rights for Shallow Breath
Media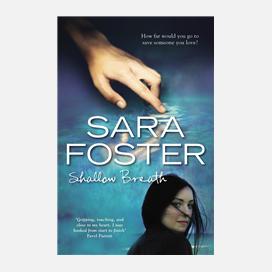 Reviews
'Gripping, touching and close to my heart. I was hooked from start to finish.'

Favel Parrett, author of PAST THE SHALLOWS
'Shallow Breath is a fast-paced read which interweaves drama, intrigue, loss and the fate animals can face at the hands of humans. The author's clever use of psychological suspense played out in this book reeled me in and delivered the animal conservation message with a powerful punch.'

Port Macquarie News
'... there is a vitality and urgency to the pace of Shallow Breath that catapults the reader right into the heart of the action.'

Australian Women's Weekly
'...beautifully researched and written with enormous passion ... the perfect holiday companion for those wanting to lose themselves in a good story.'

The West Australian
'The narrative burden shifts between characters, all of whom have winning strengths and credible frailties, and the action emanates from these qualities with effortless suspense and dramatic power...'

Sydney Morning Herald PICK OF THE WEEK
'The story reaches through the pages pulling you into its watery depths and when it is over the characters will stay with you as if you've connected deeply with new friends.'

An Adventure in Reading
'well-crafted psychological suspense'

Saturday Age

'...an absorbing novel about the loneliness of secrets and how love yearns to be free of them.'


Canberra Times
'a double whammy of suspense coupled with some nicely nuanced characters...

Geelong Advertiser
'Foster has such a knack for intrigue and is so engaging with her storytelling ... and this, her third novel - set in her adopted WA - is sharper and more mysterious than ever.'

The West Australian
'another taut, suspenseful read bursting with family secrets and hope...Shallow Breath is one of those books you want to dive into and not come back out of until it's finished.'

Monique Mulligan, Write Note Reviews