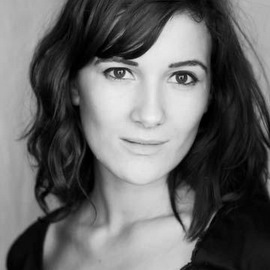 Sarah


Solemani

Screenwriter, executive producer, actress and activist.

She was born in London to a Persian Jewish father and Northern Irish mother and is currently living in the States.
Her shows include upcoming C4 comedy-drama Chivalry, which she's co-created/wrote and stars in with Steve Coogan and Ridley Road for BBC One and PBS.
Past credits include The Secrets - The Conversation, produced by Working Title for the BBC, and Aphrodite Fry, produced by Ruby Pictures for Sky, which was described by Metro as 'a British answer to Girls'. She has also written on the hit HBO show Barry, which won a WGA award for Best New Series, and was nominated for multiple Emmys.
As a playwright, Sarah's work has been performed at the National Youth Theatre, Soho Theatre, Lyric Hammersmith, Arcola, Southwark Playhouse, Old Vic, Theatre503 and the Public Theatre, New York.
She is currently adapting Mary Trump's book; she has a new drama in development with the award-winning producer Nicola Shindler (Quay Street) and she is adapting Reconstructing Amelia for HBO with David E Kelley.


Chivalry is a quality, precision-engineered piece of work by a duo with extraordinary chemistry, both on- and off-screen, in the writers' room.
Lucy Mangan
The Guardian on Chivalry
Chivalry's script has witty fun in these grey areas, and though the topic couldn't be more contemporary, the sparky exchanges between Cameron and Bobby are reminiscent of old-style screwball comedies, with sassy characters trading pointed zingers. The result is a funny, relevant show bursting with great performances.
Steve Bennett
Chortle on Chivalry
Grabbed the viewer by the chops from its startling opening scene, and held on until the closing credits...This is a thriller and a love story and, as Sunday night fare, like a sip of champagne after weeks of supermarket cola.
Carol Midgley
The Times on Ridley Road
A gripping and exceedingly tense series
Rachael Sigee
iPaper on Ridley Road
Theatre
Writer
Producer
NT Connections Festival
The National Theatre, London
Lyric Theatre, Hammersmith
Director
Caroline Steinbeis
Producer
National Youth Theatre
Director
Gbolahan Obisesan
Southwark Playhouse, London
Pleasance Theatre, Edinburgh
Producer
Bob Hoskins & Norma Heyman
Director
Joe Hill-Gibbons & Terry Johnson
Pleasance Theatre, Edinburgh
Komedia Theatre, Edinburgh