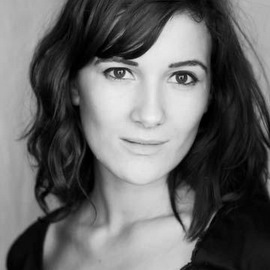 Sarah


Solemani

Writer for theatre, film and television
Sarah is a showrunner, writer and EP for TV. She is also an actress and director. Currently based in the States.
Credits include upcoming comedy-drama Chivalry, which she's co-created and co-written with Steve Coogan for C4, Ridley Road with Red for BBC One and PBS, The Secrets - The Conversation, produced by Working Title for the BBC, and Aphrodite Fry, produced by Ruby Pictures for Sky and described by Metro as 'a British answer to Girls', and the hit HBO show Barry, which won a WGA award for Best New Series, and was nominated for multiple Emmys.
As a playwright, Sarah's work has been performed at the National Youth Theatre, Soho Theatre, Lyric Hammersmith, Arcola, Southwark Playhouse, Old Vic, Theatre503 and the Public Theatre, New York.
She is currently working with Mary Trump on adapting her book about her Uncle.

Grabbed the viewer by the chops from its startling opening scene, and held on until the closing credits...This is a thriller and a love story and, as Sunday night fare, like a sip of champagne after weeks of supermarket cola.
Carol Midgley
The Times on Ridley Road
Theatre
Writer
Producer
NT Connections Festival
The National Theatre, London
Lyric Theatre, Hammersmith
Director
Caroline Steinbeis
Producer
National Youth Theatre
Director
Gbolahan Obisesan
Southwark Playhouse, London
Pleasance Theatre, Edinburgh
Producer
Bob Hoskins & Norma Heyman
Director
Joe Hill-Gibbons & Terry Johnson
Pleasance Theatre, Edinburgh
Komedia Theatre, Edinburgh