book
| Fiction
| 2011
US →
Dutton (Penguin Group USA)
(Ed. Trena Keating)
When life gives you lemons, call your best girlfriends and whip up some lemon martinis. Such is the mantra for the Ladies' Society for the Conservation of Martinis, which was established after one fateful PTA meeting, when four young mothers-Lynne, Mary Kay, Beth, and Carol- discovered they had more in common than they ever thought possible. Meeting once a month, the women would share laughs and secrets and toast to their blossoming friendship with a clink of their sacred martini glasses. The Society was their salvation, their refuge, but when life-shattering circumstances force the group to dissolve, their friendship is never quite the same... until two years later, when a tragic event puts the Society back in session.

When Lynne passes away suddenly, she leaves behind one simple request: that her old friends sort through her belongings. Reluctantly, the women reunite to rummage through her closets. There's nothing remarkable; no kinky sex toys, no embarrassing diary. But buried deep within Lynne's lingerie drawer is an envelope addressed to the Society. And inside they find a letter that reveals a shocking secret and a final wish that will send the women on a life-changing journey... proving that nothing is more powerful than the will of a true girlfriend and a good, strong martini.
Rights
Audio Rights
Available
The audio rights are handled by Liz Farrell.
Film Rights
Available
Contact Tina Dubois for more information
Claire Nozieres manages the translation rights for Kindred Spirits
Media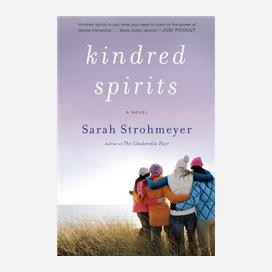 Reviews
An entertaining and compelling story
Kristin Hannah
Full Review
Opening a book by Sarah Strohmeyer is like opening a box of chocolates—sweet, a little nutty, and absolutely irresistible.
Meg Cabot
Kindred Spirits is just what you need to toast to the power of female friendship... Book clubs, rejoice.
Jodi Picoult