Smart Girls Get what they Want
book
| Fiction
| 2012
US & Canada →
HarperCollins
(Ed. Alessandra Balzer)
Gigi, Bea, and Neerja are best friends and total overachievers. Even if they aren't the most popular girls at school, they aren't too worried. They know their real lives will begin once they get to their Ivy League colleges. But when an unexpected event shows them they're missing out on the full high school experience, they decide to make a pact: They will each take on their greatest challenge - and they will rock it.

Gigi decides to run for student rep, but she'll have to get over her fear of public speaking - and go head-to-head with gorgeous California Will. Bea used to be one of the best skiers around, until she was derailed. It could be time for her to take the plunge again. And Neerja loves the drama club but has always stayed behind the scenes - until now.

These friends are determined to show that smart girls get what they want - but that could mean getting way more attention than they ever bargained for...
Rights
Roxane Edouard manages the translation rights for Smart Girls Get what they Want
Audio Rights
Available
The audio rights are handled by Liz Farrell.
Film Rights
Available
Contact Tina Dubois for more information
Translation Rights Sold
Hungarian
World
Mora Konyvkiado
Media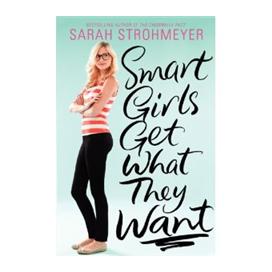 Reviews
A fresh funny book full of likeable characters, drama, and plenty of romance that kept me turning pages until late into the night.
Meg Cabot, author of ABANDON and THE PRINCESS DIARIES
Sex and the City meets Pride and Prejudice in this funny, smart and heartwarming book. Brainy babes, unite! This book is for you.
Patricia McCormick, author of SOLD and NEVER FALL DOWN