book
| Fiction
| 2009
US →
Dutton (Penguin Group USA)
(Ed. Trena Keating)
Bestselling author Sarah Strohmeyer offers up a timely (and recession-proof) treat about the things money can - and can't - buy.
Living in New Jersey, the state that boasts the most malls per capita, Kat's favorite recreational activity is a no-brainer: shopping. But when she discovers that her husband, Griff, has been hiding a secret bank account, her joyful consumerism suddenly loses its appeal. Are their fights about money more serious than she understood? Is he, as her friends suggest, preparing for a divorce? Just in case, Kat decides it's time to start saving.
Drastic times call for drastic measures: Kat starts by canceling cable and kicking her $240-a-month Starbucks habit. But what starts out as a simple effort to cut costs becomes an over-the-top obsession when Kat joins an eclectic but lovable group of savers called the Penny Pinchers Club. Soon she is pumping her gas at dawn (when it is thicker) and serving dinner made from food she retrieved at the grocery store dumpster. Kat is saving money, to be sure, but what she's really saving is time - time she spends with Griff, their two kids . . . and an old flame who resurfaces at precisely the wrong moment, offering Kat a life where money is no object.
An irresistible and wonderfully warm-hearted novel about the unexpected ways hardship can lead to happiness,
The Penny Pinchers Club
is the perfect pick-me-up for these troubled times.
Rights
Audio Rights
Available
The audio rights are handled by Heather Schroder.
Helen Manders manages the translation rights for The Penny Pinchers Club
Media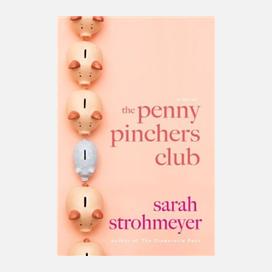 Reviews
Opening a book by Sarah Strohmeyer is like opening a box of chocolates - sweet, nutty, and absolutely irresistible.
Meg Cabot, author of The Princess Diaries
While Strohmeyer's plot may appear...cutesy, she finds ample humor in her family-centric story...
Publisher's Weekly
The Washington Post review

Strohmeyer deals handily with this subject, injecting a very real problem with humor and charm. She even leaves the reader with a few practical tips on cutting expenses.
The Washington Post
Full Review