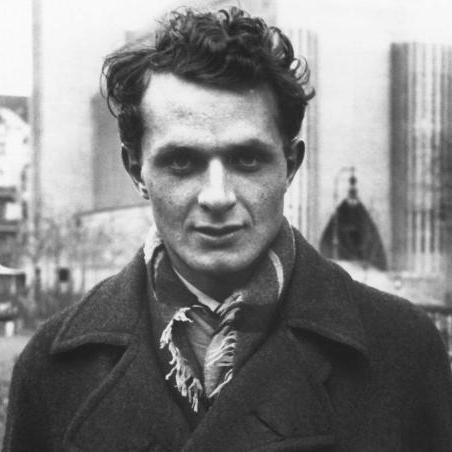 Stephen


Spender


Poet, translator and editor

1909-1995



Sir Stephen Harold Spender was a poet, translator, literary critic and editor. He was born in London and educated at the University of Oxford, where he first became associated with such other outspoken British literary figures as W. H. Auden, Christopher Isherwood, C. Day Lewis and Louis MacNeice.

His passionate and lyrical verse, filled with images of the modern industrial world yet intensely personal, is collected in such volumes as Twenty Poems (1930), The Still Centre (1939), Poems of Dedication (1946), Collected Poems, 1928–1985 (1986).

Spender's other works include short stories, novels such as The Backward Son and the heavily autobiographical The Temple (set in Germany on the 1930s) and translations of the poetry of Lorca, Altolaguerra, Rilke, Hölderlin, Stefan George and Schiller. From 1939 to 1941 he co-edited Horizon magazine with Cyril Connolly and was editor of Encounter magazine from 1953 to 1967.

Spender owed his own early recognition and publication as a poet to T. S. Eliot. In turn Spender was always a generous champion of young talent, from his raising a fund for the struggling 19-year-old Dylan Thomas, to a lifelong commitment to helping promote the publication of newcomers. In 1972, with his passionate concern for the rights of banned and silenced writers to free expression, he was the chief founder of Index on Censorship, in response to an appeal on behalf of victimised authors worldwide by the Russian dissident Litvinov.