book
| Fiction
| 2014
US & Canada →
Farrar, Straus & Giroux Inc
(Ed. Ileene Smith)
A new book of stories—some very short, some slightly longer—exploring the human appetite for rapture and trust

Call it microfiction or minifiction, flash fiction or short shorts. Whatever the label, here are fifty little masterpieces from Stuart Dybek, sparkling with his fervent intensity and sly wit. "I wanted to tell you a story without telling a story," says one narrator, and some of the other characters are even more enigmatic. Whether about a simple transaction, a brave inquiry, a difficult negotiation, or shared bliss, whether wholly realistic or clearly magical, each story in Ecstatic Cahoots reveals what Dybek finds entrancing in our need for ecstatic self-transcendence on the one hand and the need for trust between lovers, friends, family, and even strangers on the other.

Puzzlement, anguish, and conspiratorial high spirits mark the marvelous encounters here, yet sometimes they "seem meant to remain ghostly, as faint and fleeting as the reflection of a face on the window of a bus." The brilliant concision of the first story is worth savoring in full, and attentive readers will enjoy the echoes of its two questions heard elsewhere in this effervescent book:

"You're going to leave your watch on?"
"You're leaving on your cross?"
Rights
Audio Rights
Available
The audio rights are handled by Amanda Urban.
Helen Manders manages the translation rights for Ecstatic Cahoots
Media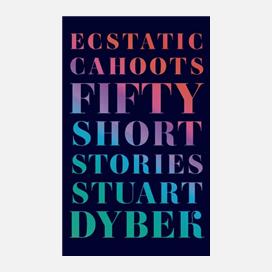 Reviews
Dybek uses all his creative muscle in these brief stories, which are both elusive and precise.
Publishers Weekly
Full Review
What the Hearts Want

Impressive [...] Ecstatic Cahoots is slim, a concise classic.
Darin Strauss
The New York Times Book Review
Full Review