book
| Fiction
| Jun 2018
UK & Comm →
Quercus
(Ed. Cassie Browne)
Canada →
Penguin
(Ed. Helen Smith)
US →
Touchstone
(Ed. Tara Parsons)
In September 1981, Polly and Frank, a young couple from Buffalo, New York, arrive at the time travel terminal at Houston Intercontinental Airport in a quarantine taxi. One will travel, and one will stay.

As a virulent flu sweeps through America, the only means for many to pay for expensive lifesaving treatment is for a loved one to travel into the future as a Journeyman, a migrant worker for recruitment agency TimeRaiser. When Frank succumbs to illness, and his girlfriend Polly enlists to save his life, Frank promises to meet her, in twelve years' time, when Polly arrives in Galveston, Texas in 1993. But when Polly lands, it is not 1993, it is 1998. America has changed so radically that this isn't a return. And Frank is nowhere to be found.
Alone in a divided America, with no status and no money, Polly is desperate to find Frank. But as danger mounts and her search demands unthinkable sacrifice, she must ask herself: what does it cost to hold on to the past, and what does it cost to let it go?

An Ocean of Minutes is a timely exploration of migration and the devastating love story of two people who are at once mere weeks and many years apart.

Rights
Claire Nozieres manages the translation rights for An Ocean of Minutes
Translation Rights Sold
Chinese Simple
World
Hangzhou Guomai Culture & Media
Dutch
World
House of Books
Media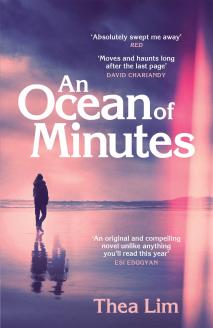 Reviews
Moving and compelling
Big Issue in the North
An Ocean of Minutes offers that rare combination of a provocative speculative setting, masterfully elegant writing, and a story that moves and haunts long after the last page. Thea Lim is an enormously talented writer.

David Chariandy, author of Brother
A strikingly imaginative time-travel story unlike anything I've ever read, rich with pinpoint emotional insight and fierce, vivid observations about a future that's already our past.

Elan Mastai, Author of the bestselling All Our Wrong Todays
Lim's remarkable debut delves into immigration and the ravages of time, yet without ever losing sight of the love story at its bittersweet heart.

Straits Times
Full Review
Shimmering... A beautiful debut exploring how time, love, and sacrifice are never what they seem to be.

Kirkus Reviews
Amidst the breathtaking world Thea Lim has created in An Ocean of Minutes is a profound meditation on the inhumanity of class and the limits of love. It takes immense talent to render cruelty both accurately and with honest beauty – Lim has pulled it off. This is a story about the malleability of time, but at its core lives something timeless.

Omar El Akkad, Author of American War
There is no denying the author's ability to create a vibrant world and predicaments for her characters... a timely novel that brings a fresh perspective on the complex subjects of migration and displacement that plague our world today.

The Irish Times
An Ocean Of Minutes absolutely swept me away.

Sarra Manning
Red Magazine
[Thea Lim] comes into her own here, with prose that's elegant and haunting, somehow managing to be both unsentimental and deeply moving at the same time. A devastating debut.



Tara Henley
The Star, Toronto
Full Review
Lim's enthralling novel succeeds on every level; as a love story, an imaginative thriller, and a dystopian narrative.
Publishers Weekly
An Ocean of Minutes is a buoyant, compelling tale ranging from the everyday beauty of falling in love to a frightening vision of a dystopian present day. Ms. Lim's imagination is boundless and dynamic, from her narrative arc to the small details that animate and anchor her prose. I would recommend An Ocean of Minutes to anyone looking to be drawn in and enchanted by a truly unique story.

Jennie Melamed
Lim's steady prose and deft character development ensured that I was hooked on Polly's story from beginning to end.

LA Times
With echoes of The Time Traveller's Wife, An Ocean of Minutes is a love story with a difference

Good Housekeeping
A compelling dystopian read
Image Magazine
Thea Lim's imaginative and timely writing feels wholly original… a truly heart-breaking narrative

Press Association
Lim's debut could prove to be the must-read CanLit offering this summer.



Chatelaine
Haunting and gorgeous
Chatelaine