book
| Fiction
| 2014
UK & Comm →
John Murray
(Ed. Mark Richards)
It is 2008, late capitalism is in crisis, and the great and the good are gathered at an Islington house party. Hosting proceedings are waspish Sherard Howe, scion of a publishing dynasty and owner of a left-wing magazine, and his wife, Daphne Depree, whose feminist work
The Third Sex
is seen - to her increasing discomfort - as an intellectual cornerstone of the Blair era. Into this world arrives twenty-four-year-old Elizabeth 'Buzzy' Price, an aspiring poet only too aware of her suburban background. Moral support is at hand from shy but devoted Henry, the Howes' biological son - though perhaps Buzzy is most grateful for her friend's connection to her own unrequited love, the worldly Marcel.
As the years pass and a coalition government takes office, Buzzy's fortunes rise and the elder Howes' lives threaten to unravel. But do the civilising possibilities of art involve enlarging Buzzy's romantic ambitions, or revealing their moral complacency? And could meek and gentle Henry, having angered his family by going to work for the political enemy, turn out to be steelier than anyone thought?
Barbarians is a fresh, contemporary debut about love, art and politics, told with a 19th century sensibility. If you enjoyed Alan Hollinghurst's The Line of Beauty, Jonathan Coe's What a Carve Up! or Armando Iannucci's The Thick of It, then Tim Glencross's Barbarians is for you.
Rights
Audio Rights
Available
The audio rights are handled by Alice Lutyens.
Film Rights
Available
Contact Joe Phillips & Jenn Lambert for more information
Melissa Pimentel manages the translation rights for Barbarians
Translation Rights Sold
German
World
Berlin Verlag
Media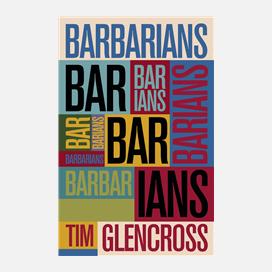 Reviews
The author of this cracking contemporary satire has worked as a speechwriter for a shadow minister and he describes a closed, privileged world with superb assurance . . . He can also be extremely funny . . . A dazzling debut.
The Times
Full Review
Barbarians aims to take the temperature of the times . . .
an engaging and often impressive debut, and Glencross feels like a writer to watch.
Sunday Times