book
| Fiction
| Mar 2014
UK & Comm →
Random House
(Ed. Selena Walker)
US →
St Martin's Press Inc
Meet Detective Max Wolfe. Insomniac. Dog lover. Coffee addict. Boxer. Orphan. Devoted husband of a brutally departed wife. Single parent. Defender of the weak, avenger of slaughtered parents and every murderer's worst nightmare.

There's a serial killer on the loose. He cuts throats. And he is good at it.

Twenty years ago seven rich, privileged students became friends at their exclusive private school, Potter's Field, founded five hundred years ago by King Henry VIII. Suddenly they have started dying in the most violent way imaginable…

Detective Max Wolfe follows the bloody trail from the backstreets and bright lights of the city all the way to the corner rooms in the corridors of power. At enormous personal cost, what Wolfe uncovers is a horrific secret that has been buried for two decades - and is now ready to explode.
Rights
Audio Rights
Available
The audio rights are handled by Alice Lutyens.
Kate Cooper manages the translation rights for The Murder Bag
Translation Rights Sold
Croatian
World
Profil International
Czech
World
Moba Publishing
Estonian
World
Eesti Raamat
French
World
Groupe La Martinière
German
World
Bastei Lübbe Verlag
Greek
World
Metaichmio Publishing
Hebrew
World
Am Oved Publishers
Hungarian
World
Europa Konyvkiado
Italian
World
Edizioni Piemme
Montenegrin
World
Nova Knjiga
Romanian
World
Editura RAO
Russian
World
Eksmo Publishers
Swedish
World
Bokfabriken
Media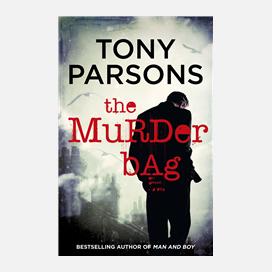 Reviews
The plot is fast-paced, chilling, heartwarming in places and with enough twists to satisfy whodunnit fans. An entertaining read with a strong character leading the way to the next two books.
Viv Watts
Daily Express
Full Review
Spectacular – tense but human, fast but authentic – maybe this is what Tony Parsons should have been doing all along.
Lee Child
Full Review
Parsons has decided to try his hand at crime fiction, and made an impressive, page-turning job of it...Told with conviction, and at an ever accelerating pace, it is the first of a trilogy over the next three years.
Geoffrey Wansell
The Daily Mail
[Parsons] Has reinvented himself as a gritty crime-writer … But there are two things that elevate Parsons' novel: parenting is his speciality subject and it's treated with a nuance largely absent elsewhere in crime fiction. And Parsons, a quintessential London writer, evokes his city with pungency and élan.
Barry Forshaw
Financial Times
Full Review
Tony Parsons' latest novel is a gory, bloody crime thriller - and it's pretty gripping stuff.
New Magazine - Book of the Week
Although this is detective fiction, Parsons manages to avoid the well-trod tropes of the genre... not only is The Murder Bag a fresh entry into the world of crime fiction, it's also a confident and grisly novel with plenty of insight to share.
GQ
Truly emotive crime writing is a rarity and The Murder Bag looks set to win Parsons many new fans in the genre.
GQ Bookclub
Parsons has been hiding his crime writing chops under a bushel and thank goodness he has finally brought out this latent talent and pushed in under the spotlight. The Murder Bag is a stonking good read and you are certainly in for a treat.
crimesquad.com - Author of the Month
If you are going to plunge into the overcrowded pool of crime fiction, as a writer you need either a powerful plot or a charismatic protagonist. For his first crime novel, the bestselling British novelist Tony Parsons has managed both...His story, about the search for a serial killer targeting men who went to public school together, will have you racing through the 366 pages of propulsive narrative.
Debra Craine
The Times
...compelling, a page-turner which manages to follow all the conventions of the genre while never becoming a cliché itself.
Theo Merz
The Telegraph
The Murder Bag is the start of an exciting new series.
Everyone's Talking About - Good Housekeeping
Parsons draws you in with a shocking event, which then leads to the meaty business of the primary mystery keeping you completely hooked throughout...We reckon there'll be many more Max Wolfe books to come.
Boyd Hilton
Heat Magazine
If you're looking to invest your evenings in a new crime series, you've found your man.
Shortlist Magazine
A relentless plot, evocative prose and compelling (and wrenching) portraits of the characters, good and evil, conspire to make this a must-read. And I have two words for hero Max Wolfe: More. Soon.
Jeffrey Deaver
Full Review