book
| Fiction
| 2014
UK & Comm →
Quercus
(Ed. Jon Riley)
London, November 1968. The decade is drawing its last breath. In Marylebone CID, suspects are beaten in the cells and the only woman is resigning. Detective Sergeant Breen has a death threat in his intray and a mutilated body on his hands.

The dead man was the wayward son of a rising MP with the ear of the home office - and everywhere Breen turns to investigate, he finds himself obstructed and increasingly alienated. But PR wary politicians can't stop him talking to the art dealer Robert 'Groovy Bob' Fraser; whose glamorous parties mask a spreading heroin addiction among London's young and beautiful.

He begins to see that the abuse of power is at every level of society. And when his actions endanger those at the top, he becomes their target. Out in the cold, banished from a corrupt and fracturing system, Breen is finally forced to fight fire with fire.

William Shaw paints the real portrait of London's swinging sixties. Authentic, powerful and poignant, A House of Knives reveals the shadow beyond the spotlight and the crimes committed in the name of liberation.
Rights
Claire Nozieres manages the translation rights for A House of Knives
Film Rights
Available
Contact Joe Phillips & Jenn Lambert for more information
Media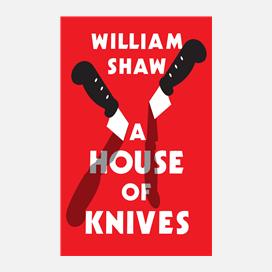 Reviews
A slow, steady mystery that is good to the last ember.
Arielle Landau
New York Daily News
In William Shaw's insightful novel [...] the stern and stolid Sergeant Breen feels out of his depth when a criminal investigation takes him into the bohemian world where "groovy people" buy and sell "cool art." But having recently lost his father, an uneasy transplant from Ireland, he can relate to someone like the Welsh Labour Party politician mourning the death of the son who had become a stranger to him. A melancholy tone is only to be expected in a novel about the estrangement of fathers and sons, but Shaw has gone beyond that, creating an elegy for an entire alienated generation.
Marilyn Stasio
New York Times Book Review
Shaw skillfully resurrects the 1960s bohemian art scene in London, drawing battle lines between traditionalists and the growing modernist fringe.
Booklist
Full Review
Shaw [...] makes the gritty English capital come alive, and while the action is slow-burning, it's worth waiting for the inevitable explosion.
Kirkus Reviews
This critique of the Swinging Sixties is administered by a crackerjack storyteller who adroitly balances likable lead characters, bursts of intense action, and a great ear for office banter that will engage any reader who remembers the era, as well as anyone who has to google 'bell-bottoms.'
Library Journal starred review
Woven through this witty novel are references and cameos from real personalities of the era, adding the the picture of wilful corruption and racism, yet giving you such a good feel for the time you'll be reaching for your hippy beads. It's a far out read, man. You'll dig it.
Sunday Sport
Full Review
The follow-up to Shaw's interesting first crime novel, A Song From Dead Lips . . . A distinctive British crime drama, which benefits from a clear moral sense — not altogether common in an era more used to Fifty Shades Of Grey.
Daily Mail
Shaw perfectly captures London in the swinging '60s with its atmosphere of sexism, where bottom ogling and pinching are commonplace. References to contemporary figures from the Beatles and Donovan to Dennis Hopper and Prime Minister James Callaghan bring the era further to life. Breen and Tozer come across as fallible human beings, not razor-sharp law enforcers, and it's their relationship—both professional and personal—that makes this a winner.
Publishers Weekly