Books | Feb 11, 2015
ALA Carnegie Awards longlist announced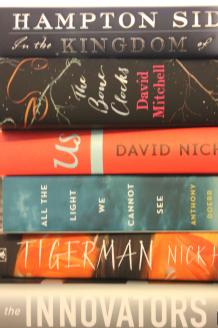 Rick Bragg, Anthony Doerr, Nick Harkaway, Walter Isaacson, David Mitchell, David Nicholls and Hampton Sides have been longlisted for the American Library Association (ALA) Andrew Carnegie Awards.

Anthony Doerr's All the Light We Cannot See, Tigerman by Nick Harkaway, The Bone Clocks by David Mitchell and Us by David Nicholls are longlisted in the Fiction category.
All the Light We Cannot See deftly interweaves the lives of Marie-Laure and Werner against the tragic backdrop of World War Two. Tigerman, a swashbuckling tale set on the faraway island of Mancreu, tackles fatherhood and how we do anything for those we love. The Bone Clocks by David Mitchell is a brilliantly crafted time-travelling thriller which follows the turbulent life of Holly Sykes. David Nicholls' Us is the history of a family, recounted over the course of what may well be their final weeks together. It's a comedy about the demands of a long marriage, about parenthood, about the relationship between reason and emotion, art and science, parents and children, middle-age and youth.
Jerry Lee Lewis: His Own Story by Rick Bragg, The Innovators: How a Group of Inventors, Hackers, Geniuses, and Geeks Created the Digital Revolution by Walter Isaacson and Hampton Sides' In the Kingdom of Ice: The Grand and Terrible Polar Voyage of the USS Jeanette have been named on the Non-fiction longlist.
The Innovators is Walter Isaacson's seminal biographical story of the pioneers of the computer and the Internet. In the Kingdom of Ice is a white-knuckle tale of polar exploration and survival in the Gilded Age New York Times bestselling author Hampton Sides.
The shortlist is set to be announced in Spring 2015.