Actors | Mar 9, 2015
Banished begins on BBC2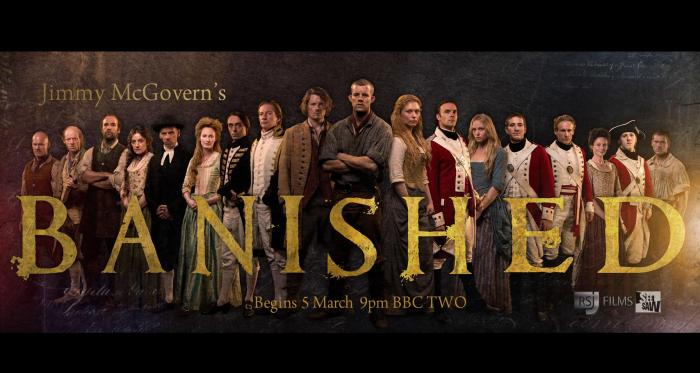 Adam Nagaitis, David Walmsley, Ned Dennehy Cal MacAninch and Nick Moss star in Banished, a new BBC2 drama created by Jimmy McGovern.
McGovern's seven-part series is inspired by events in the 18th Century when Britain established a penal colony in Australia.
Adam Nagaitis plays Buckley, last year Adam was seen in Happy Valley for BBC1 playing Brett. His other credits include 71, Frankenstein and Suffragette, and he has just been cast in Apocalypse Slough, a new comedy-drama for Sky One.
David Walmsley plays Will Stubbins, a young convict who volunteers to help the colony by training as a blacksmith. He desperately wants to get home to his wife and children, and sets out to learn to read and write in order to communicate with them, not least to read her letter he so treasures. We await the terrible moment when he discovers the truth. David is currently filming one of the leading roles in the feature Ben Hur opposite Morgan Freeman.
Ned Dennehy plays Letters Molly, a convict so named on account of his literacy. He reads and writes letters for the other convicts, often twisting the content of the letters he is reading out to save the feelings of others. Ned has also recently finished filming on forthcoming ABC series Glitch.
Cal MacAninch plays Sergeant Timmins, a British soldier with the rare humanity to consider the convicts at Botany Bay as fellow human beings. Recent credits include DCI Banks and the regular role of Mr Thackeray in ITV's Mr Selfridge. Cal played Robbie Ross opposite Rupert Everett as Oscar Wilde in the acclaimed The Judas Kiss in the West End.
Nick Moss plays Spragg a strong minded member of the male convicts, who Tommy knows will keep order. Spragg would be the political leader of the convicts, if they had that kind of structure, but he knows that Tommy holds the hearts and minds of the group. Nick will next be seen in Safe House on ITV1 opposite Christopher Eccleston.
Banished premieres on 5th March 2015 at 9pm on BBC2.