Actors | May 24, 2012
Bayo Gbadamosi and Simon Darwen in Mad About The Boy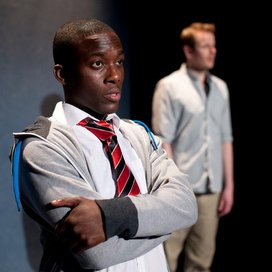 Bayo Gbadamosi and Simon Darwen star in Mad About The Boy which is currently touring The Bush and Young Vic theatres.

The play focuses on a boy, played by Bayo, whose life has come to a pivotal juncture. Does he pursue a life of criminality or does he try to mend his ways and recognize the rule of law? The boy is flanked by his father and his school councillor, played by Simon, who are both trying to dissuade him from a reckless and failed future. Through their interactions, Mad About The Boy examines social decay, generational disconnects and the fundamentals of what responsibility really means.


Mad About The Boy was first performed at the Edinburgh Festival in 2011, winning The Fringe First Awards 2011 and receiving great reviews, with The Scotsman claiming; "Bayo Gbadamosi is a brilliant young actor who seems to effortlessly embody his character".
The trend continues in London with What's On Stage giving the play 4 stars and stating; "the performance of Bayo Gbadamosi in the central role is well worth the ovation it received" and Simon "excellent" as the Councillor.
Mad About The Boy runs at The Bush from the 28th May to 2nd June, then at the Young Vic from 6th June to 16th June.